Mick McCarthy: Ipswich Town went 'through the mill to win'
Last updated on .From the section Ipswich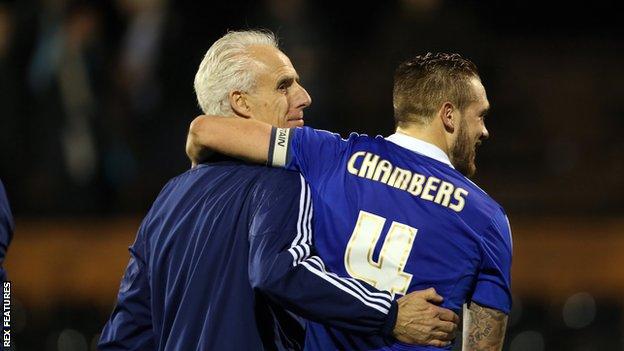 Ipswich manager Mick McCarthy has lauded his side's determination after Tuesday's 2-1 victory over Fulham.
Town, sixth in the table, won through Brett Pitman's strike after Freddie Sears' goal 16 seconds into the game was cancelled out by Ross McCormack.
"Cole Skuse has come off with a busted nose and Peter Malarczyk's got a lump on his head," McCarthy told BBC Radio Suffolk.
"But I love that. They've gone through the mill to win."
Ipswich's Sears scored his sixth league goal of the season within the first minute of the game - and McCarthy could not hide his surprise.
"I wasn't certain we could get from our half to the goal in 16 seconds! But I didn't bank on Freddie Sears and how quick he is," said McCarthy. "We like to try to start fast, and it's a great finish. He was great all night."
Fulham, who sit 17th in the Championship, responded quickly through McCormack's 11th league goal of the campaign, and McCarthy recognised the need for his side to be "ruthless".
"I said at half-time it's whoever's the most ruthless here, because they'd had some breaks and chances and the game became very open," he said. "I thought we were all over them and just needed to score.
"I said it's about whoever takes the next chance and thankfully it was Brett."
Pitman's winner proved the pivotal moment, but McCarthy saved his highest praise for the travelling support, who he described as "bonkers".
"It's a term of endearment," said McCarthy. "They're just brilliant and I love the fact that we can give them away wins, because we're all delighted, but they're putting their hard-earned cash into it.
"Fulham's not an easy place to get to from Ipswich, so thank you to them and I'm glad they saw a good performance and a great result."