Michel Platini: FA chief says supporting Frenchman 'difficult'
Last updated on .From the section Football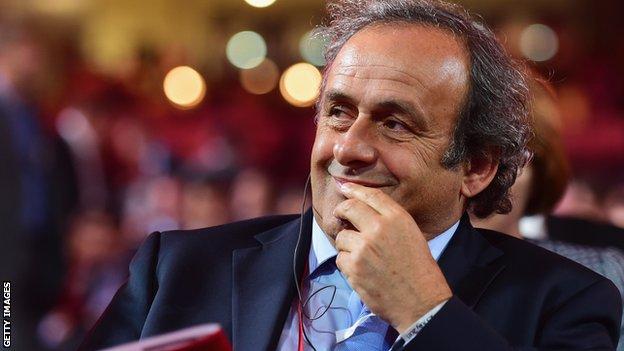 The Football Association would find it "difficult" to back Michel Platini's bid to become Fifa president, even if he is cleared by the ethics committee of football's world governing body.
Uefa chief Platini, 60, is being investigated over a £1.35m payment he received from Sepp Blatter, Fifa's outgoing president, in 2011.
Both men deny any wrongdoing.
FA chief executive Martin Glenn said outstanding questions would make it hard to support the Frenchman.
"From a personal point of view, I think that whatever happens to Michel Platini, and I genuinely think that Uefa has been well-run under his watch, we just need someone where there is no doubt," he said.
"Fifa and football need to change and need to be seen to be changing, so I think it would be difficult if that accusation was not totally laid to rest and I think it's quite hard to do that, so I think it would be difficult."
Platini, who is serving a 90-day provisional ban from football, will boycott the hearing into allegations of corruption on Friday.
Lawyers for the former France captain and manager believe the "verdict is already announced".
A decision could be made by 21 December, though both men could then submit further appeals.
The FA, which suspended its support for Platini in October, says it will not make any decision on who to support in February's presidential election until much nearer the time.
Platini still hopes to be a candidate to replace 79-year-old Blatter - who is stepping down after 17 years in charge - but can only stand if he is cleared.