Chris Wilder: Northampton boss reflects ahead of 100th game in charge
Last updated on .From the section Football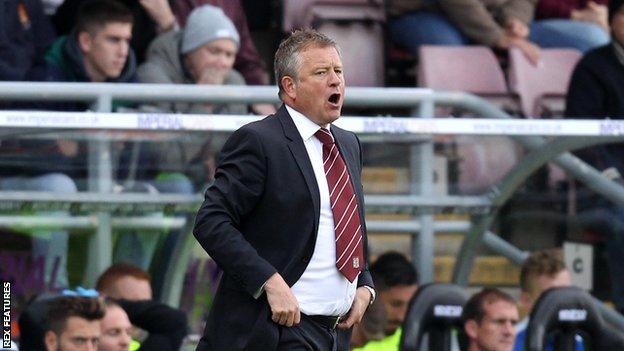 Northampton boss Chris Wilder says the club "hasn't achieved anything yet" as he approaches his 100th game in charge.
Wilder, who will reach the landmark against Portsmouth on Saturday, joined the Cobblers in January 2014 and has led Northampton Town to the top of League Two.
"They're all my players now, they're myself and Alan's [Knill] players who we wanted to play for the club," Wilder told BBC Radio Northampton.
"We've made some huge strides."
The Cobblers sat at the bottom of the Football League when Wilder took over, but managed to escape relegation by three points.
"I think the challenge was to stay in the division, because it's tough for established Football League clubs when they find themselves out of this league," Wilder added.
"Grimsby, Cambridge, Oxford; it becomes a grind and that's not a criticism of the National League, it's just tough to get back out.
"We've tried to change a few other bits and pieces around the club and there's still work to be done. Talking to the chairman about the training ground, we've not had a facility that really kicks us onto the next level, so that's something that we're looking into at this moment."
Despite problems off the pitch, the Cobblers go into their match against fourth-place Portsmouth on a run of five straight league wins, having scored in every league game since a 2-0 loss against Plymouth in August.
"We assembled a good group at the start of the season and we've got to be delighted with 43 points. It gives us a platform to kick on," Wilder said.
"If people know their football, Portsmouth are 99.9% of people's favourites to go up, and I don't play mind games. I just look at them and they're an enormous club for the division. I love the way they play.
"This is a good test for us to see how far we've come. I think anybody who finishes above Portsmouth goes up."