Abby Wambach would fire Jurgen Klinsmann from US coaching role
Last updated on .From the section Women's Football
Record-breaking United States striker Abby Wambach said she "would definitely fire" US men's team boss Jurgen Klinsmann as she retired from football.
The 35-year-old, who has scored 184 goals in 255 matches, played in her last game as the US lost 1-0 to China.
But speaking before the game, she criticised German Klinsmann, who has been in charge since 2011.
"He hasn't really focused, I feel, enough attention on the youth programmes," said Wambach.
"Although he says he has, I don't think that he has. I don't think Jurgen and this litmus test on him has worked."
Wambach, who has scored more goals than any male or female player in international football history and helped the US win the World Cup in July, said Klinsmann had concentrated on recruiting the likes of German-born Jermaine Jones and Fabian Johnson rather than developing home-grown talent.
"I would definitely fire Jurgen. The way that he has brought in a bunch of these foreign guys is not something I believe in wholeheartedly," she added on the Bill Simmons Podcast.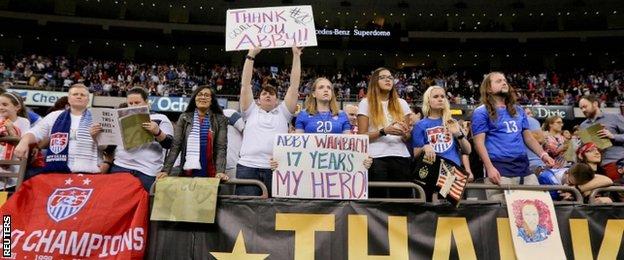 Not scoring 'is kind of symbolic'
After Thursday's defeat by China in which Wambach played 72 minutes, her team-mates apologised for not earning a win in her final game, but the two-time Olympic champion added: "There's nothing to be sorry about. Today wasn't about getting a result.
"Tonight is a celebration. The result, obviously, is annoying. It would be better if we had won, but the reality is I played in so many games.
"This result doesn't shape or determine or define my career."
Wambach threatened with two headers and a shot at goal from inside the penalty area, but said after being substituted. "It's kind of symbolic; I get 70 minutes and we don't score a goal,"
"It's like, 'OK, you know what? It is time to go.' These younger players have so much to look forward to. I've been the blessed one for so many years to be a part of this team."
Honours and awards
2015 World Cup winner
2004 and 2012 Olympic gold medallist
2012 Fifa world player of the year
2011 Associated Press female athlete of the year
Six-time US soccer athlete of the year (2003, 2004, 2007, 2010, 2011, 2013)