Pirelli Stadium cash boost for all-weather sports facility
Last updated on .From the section Football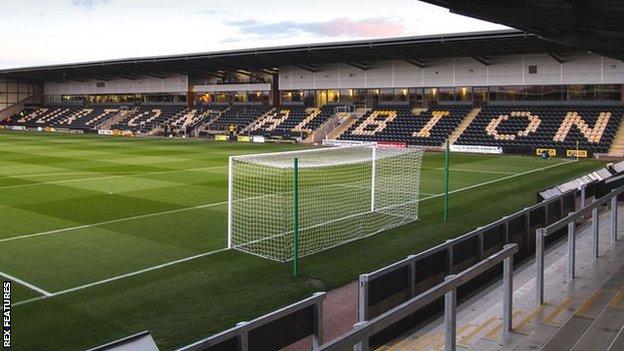 A £1m all-weather sports facility at Burton Albion's Pirelli Stadium home has moved a step closer.
The League One leaders have secured nearly £850,000 in funding from the Premier League and FA Facilities Fund for the project which would be used by the club and the local community.
Plans for the 3G artificial pitch and "support building" have been submitted to East Staffordshire Borough Council.
A decision is expected in 2016 and the club are confident it will be approved.
Around £100,000 is still needed to fund the project.
Burton Albion head of community Andy Taylor said: "Now we have secured the bulk of the funding we believe we have the momentum to reach the target and are looking for partners and funding sources to bridge the gap.
"We tick a lot of the boxes for the Premier League with the project being based at the football club and run by a very successful community trust, and also in an area with a proven need for the facility.
"It's about supporting the development of football, sport and community engagement in the Burton area and we can only see positives from this scheme."