Cardiff City 'close' to transfer targets, says Russell Slade
Last updated on .From the section Cardiff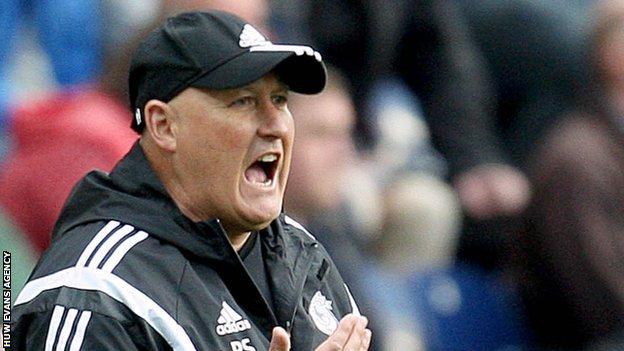 Cardiff City are "close" to securing some of their January transfer window targets, says manager Russell Slade.
Slade says the Bluebirds are "spinning plates" to bring in players who can help them strive for promotion to the Premier League.
They are one place off the play-off spots and Slade wants to add "pace and energy" to his attacking options.
"We're close to one or two pieces of work that we would like to achieve in the window," said Slade.
"It's a question, sometimes really, of spinning plates.
"It's dangerous to put all your apples into one basket."
Slade also reiterated his desire to ensure striker Kenwyne Jones stays beyond the end of this season when his contract expires, but says the club is trying to marry football ambitions with the club's financial needs.
"To get a big, strong target man is not easy, and that's what Kenwyne is," said Slade. "He gives us a focal point.
"These attributes are not easy to come by and we would hope that we can hang on to our stronger players.
"There's the football decision and then there's a financial decision.
"On the football side he's doing everything possible to show us what we need from him and giving a great example of what we need to get into that top six."
Jones scored the late winner as Cardiff beat Brentford 3-2 on Tuesday in a performance that led Slade to praise their "backbone".