Dean Smith: Brentford boss left Walsall to pursue Premier League
By Ged Scott and Steve Hermon
BBC Sport
Last updated on .From the section Football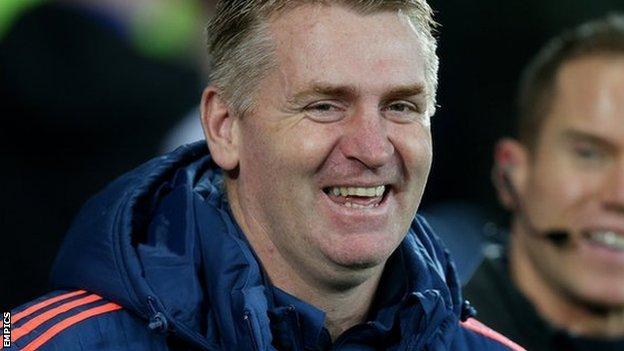 Dean Smith says the reason he left Walsall for Brentford last month was because the Bees match his ambition to become a Premier League manager.
Smith has joined a Championship side who made the play-offs last season and are now back in contention again after a poor start to the current campaign.
"They're pushing to try to get to the Premier League," Smith told BBC WM.
"And I think that's going to be an impossible thing to do at Walsall. Brentford match my ambitions."
Smith had built a potential League One promotion-winning side at Walsall and left with them fourth in the table.
For now the Saddlers remain in the joint caretaker hands of John Ward, physio Jon Whitney and goalkeeping coach Neil Cutler.
And after winning their first League One game without Smith, at Shrewsbury, on Tuesday they came though an FA Cup second round replay on penalties against Chesterfield to set up an intriguing third round trip to Smith's Brentford on 9 January.
Smith on Bees' FA Cup date with the Saddlers
"I wasn't aware of the draw on Monday night as I was doing a talk about leadership at Goodwood Racecourse.
"Anybody who's driven over the Downs will know you can't get a signal, so at 10 o'clock, when I was driving back, my phone started pinging and I guessed what the draw was.
"I'm glad Walsall got through. It's been a while since they got to the third round and we had a wonderful time against Chelsea this season.
Walsall in the 2015-16 FA Cup
First round (7 Nov):
Dean Smith in charge for 2-0 home win over Fleetwood
Second round (5/15 Dec):
Caretaker bosses John Ward, Jon Whitney and Neil Cutler oversee second round replay win over Chesterfield on pens (5-3)
Third round (9 Jan):
Who will be in charge against Dean Smith's Bees?
"I always said, as Walsall manager, you want a home draw against a team lower than you. Now I'm a Championship manager and we've got a home draw against a club lower than us, I couldn't have asked for any more.
"People make a lot out of the fact it's my old club but that's a sideshow. It's 11 v 11. And, if it goes to a replay, I don't mind because it'll give me a night back at home with the wife and family," he joked. "But obviously we want to win the first game."
What going up with Walsall would have meant
"I'd have loved to [win promotion to the Championship with Walsall]. I've always said about the improbable dream to get there. There's only ever been three Walsall managers who've done it in 127 years, so it just shows you how tough it is getting Walsall into the Championship, and there's no guarantees of that.
"What Brentford did guaranteed me coaching in the Championship and pitting my wits against some really good coaches and players, and it was an opportunity that I couldn't turn down when it came that way.
"In almost five years at Walsall, I've always done my best for the football club. I look back at where I started as the head of youth and then taking over as manager and to what I've left behind, and I think I've done a really good job and left it in a good state.
"You have to move on to new things and I don't think anybody, any of the staff or players, begrudge me the opportunity to go and manage in the Championship."
Dean Smith was talking to BBC WM's Rob Gurney.