'Vincent Kompany's absence is no excuse for Man City'

By Martin Keown
MOTD pundit and former Arsenal defender
Last updated on .From the section Man City

If Manchester City's defence continues to be so reliant on Vincent Kompany, they are not going to win the Premier League.
He will miss Monday's trip to Arsenal, but even when Kompany gets back from his calf injury he is not going to be fit enough to play all season - and you only have to look at their statistics with and without him to see how badly they have done when he is missing.
It is about time they changed that. When you take one player out of a defensive unit, it should not really matter - no matter how good he is.
During my time at Arsenal, we always had a well-drilled back-four. Every centre-half from myself and Steve Bould to Tony Adams and Sol Campbell knew their roles and responsibilities, and it was the same whether it was Nigel Winterburn or Ashley Cole at left-back or Lee Dixon or Lauren at right-back.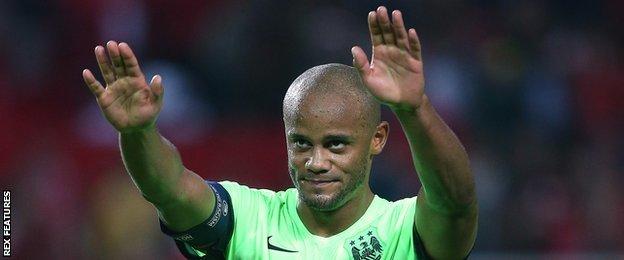 One player might be better than another but, in City's case, when Kompany is absent it should not amount to them suddenly being so vulnerable that they are unrecognisable at the back.
When I watched City recently, their defenders were gambling. They held the edge of the box to try to play people offside and did not pick off runners. They were not working together as a unit.
If an opposition player made a good run, they should have been dropping off and dealing with it but they were making the wrong decision too often and needed goalkeeper Joe Hart to get them out of jail.
Part of that problem could be solved on the training pitch with drills to get them better organised, which is why I think City's coaching staff are not working them hard enough.
Man City with/without Kompany in 2015-16

Premier League

With

Without

Games

8

8

Clean sheets

7

1

Goals conceded

1

16

Average shots faced per game

7.5

9.8

Win %

75%

50%

Points per game

2.5

1.5
I would take it personally if we conceded without Adams on the pitch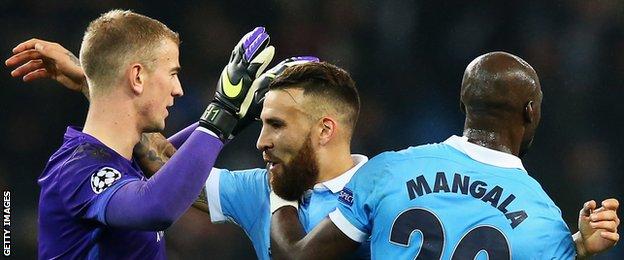 It reflects poorly on City's other defenders and their coaches that they have missed Kompany as much as they have done this season.
Kompany is an outstanding player, but the strength of any back four I played in was down to the unity and understanding of each member of it, not one individual.
I have been there, and I know what Martin Demichelis, Eliaquim Mangala and Nicolas Otamendi feel like when they have to come into the City team or partner somebody else when Kompany is injured, like he is now.
Man City's centre-halves in the Premier League 2015-16

Who played together

Games

Won

Lost

Win rate

Conceded per game

Kompany & Mangala

5

5

0

100%

0

Otamendi & Mangala

4

3

0

75%

1.25

Otamendi & Demichelis

3

1

2

33%

2.33

Kompany & Otamendi

3

1

0

33%

0.33

Demichelis & Mangala

1

0

1

0%

4
When I was at Arsenal, I got used to everybody in the media playing homage to Tony Adams, the same way people do with Kompany now.
But, for the Gunners, myself and Steve Bould probably felt we were just as good as Tony and we made damn sure that, when he didn't play, nobody noticed that he wasn't there.
I would take it personally if we conceded when Tony was not on the pitch because I knew what was coming if we did.
It was important to me that the newspapers could not write the sort of stories about Arsenal relying on Adams that I have been reading about City and Kompany in the last few weeks.
Kompany is not untouchable either
They have struggled without him but it is far to easy to say City are only poor at the back when Kompany is not playing. They were not particularly great with him last season either.
Man City with/without Kompany in the Premier League 2014-15

With

Without

Games

25

13

Clean sheets

7

7

Average goals conceded per game

1.1

0.8

Average shots faced per game

9.8

11

Win %

56%

77%

Points per game

1.8

2.5
Yes, he had injuries that kept him out for part of that campaign, but he was also dropped when he was fit because he lost form.
When he is fully fit and at the top of his game, Kompany can be awesome.
But I don't like the individualism in his game that puts his team in trouble when it does not come off.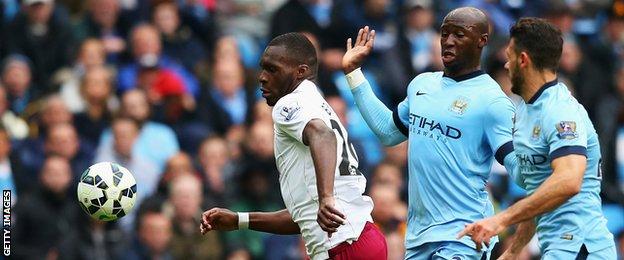 He sometimes flies out of defence to try to be first to the ball. It is impressive when it works but, when it doesn't, he leaves a big hole behind him.
City actually had a better win ratio without him in 2014-15, when Mangala and Demichelis was their most successful regular partnership in central defence, but they have played together only once this season and were taken apart by Liverpool.
Man City's centre-halves in the Premier League 2014-15

Who played together

Games

Won

Lost

Win rate

Conceded per game

Boyata & Demichelis

1

1

0

100%

1

Mangala & Demichelis

14

11

0

79%

0.85

Kompany & Mangala

10

7

2

70%

0.8

Kompany & Demichelis

13

5

5

17

1.3
City have missed Aguero up front too
City have not been scoring many goals recently - they have only eight in their past seven Premier League games - which means their problems in defence have been more obvious, and costly.
Sergio Aguero should be back to lead their attack against the Gunners on Monday, which should help up front, but he will be short of fitness and might not last 90 minutes.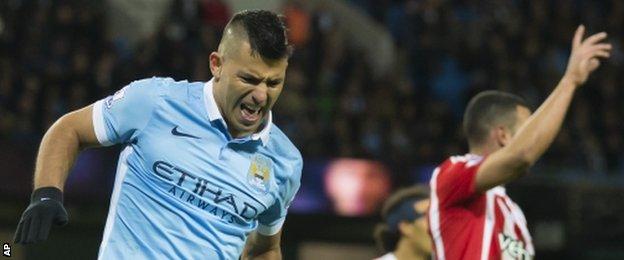 A couple of seasons ago, when City had Edin Dzeko, Alvaro Negredo and Stefan Jovetic on the bench, most opposition defenders knew they would be in for a difficult afternoon even if they kept Aguero quiet.
I don't feel Wilfried Bony carries the same threat. He does not frighten Premier League centre-halves in the way Aguero does.
Man City with/without Sergio Aguero 2015-16

Premier League

With

Without

Games

10

6

Average shots per game

13.2

10.2

Average goals scored per game

2.3

1.5

Win %

70%

50%
Arsenal have their own injury problems too, but they do not seem to be missing individuals in the way City do with Kompany and Aguero.
Santi Cazorla and Francis Coquein are sidelined now, and we have not seen anything of Jack Wilshere or Tomas Rosicky this season.
But sometimes Arsene Wenger's best team just seem to fall into place because some people are unavailable and, at the moment, I feel they have found a really nice balance in midfield.
Mathieu Flamini seems to be getting better with every game and provides so much energy, while Aaron Ramsey offers a threat going forward at the same time as making tackles.
If City or Arsenal find form, the title will be theirs
Monday's game at Emirates Stadium is important because you always want to take points off your rivals, but the way this season has gone for both teams means it is a long way from being decisive, whatever the result.
City have been very up and down, while in many ways this has been a typical Arsenal campaign - they have challenged at the top of the table and played well at times but also had some poor games.
They have just had an excellent week, qualifying for the Champions League, but November was a complete write-off for them in the Premier League. They picked up only two points from three games.
Usually, when you have had such inconsistency and suffered defeats like both Arsenal and City have done so far, then another team is well clear and away into the sunset.
This year, what is different is that you do not have to be perfect. Who wins the title is more likely to come down to whoever can recover from a bad result the quickest.
In many ways the season starts here. What has happened so far does not matter; what matters is what happens between now and May, and which of the teams at the top of the table can improve the most, because they all have to.
That will come down to what happens on the training pitch as much as in the transfer window but, if City or Arsenal can find some form, then the title will be theirs.