Neal Ardley: Plough Lane 'a dream' for AFC Wimbledon boss
Last updated on .From the section Wimbledon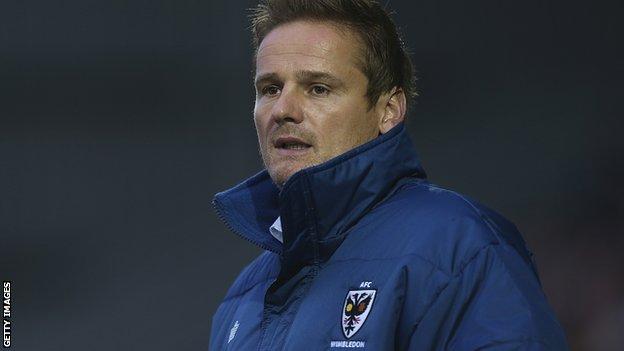 AFC Wimbledon manager Neal Ardley says it would be "a dream" to lead the club into their new stadium at Plough Lane.
"It would be a wonderful thing but I've already doubled the average tenure of a manager in being here three years," he told BBC Radio London.
"If I am not here, I would love to come back and support them at that time."
Ardley was appointed in October 2012 and is now the ninth longest-serving manager in the top four divisions of English football.
"I don't think I can think another two and a half years ahead," he said. "I have got to get this season right first."
Supporters 'deserve all the credit'
Ardley spent 11 years as a player with the original Wimbledon FC and says it is "humbling" to now be a part of the phoenix club's history.
AFC Wimbledon were formed in 2002 after the original club were given permission to move to Milton Keynes and were eventually renamed MK Dons.
Having played at Kingsmeadow since their formation and returning to the Football League in 2011, AFC Wimbledon have long held ambitions of returning to play at their spiritual home of Plough Lane.

Last week Merton Borough Council approved plans to build an initial 11,000-capacity stadium, which could be expanded to hold 20,000.
"To have your football club ripped away has never happened to anyone," Ardley said.
"To rebuild a club; after watching Premier League players, to go to Sunday parks players, to rise up the leagues, get back in the League and get a new stadium, they have overcome every challenge thrown at them.
"Whatever I represented when I played, that is the past. These people, to see what they have done in 13 years, it is so remarkable.
"It is a story that will never happen again and they deserve all the credit."
Players 'must fight for fans'
On the pitch, Ardley's Wimbledon side have not won in their last five league games and have slipped to five points off the League Two play-offs.
Following last Saturday's defeat at home by Stevenage, the 43-year-old has called for his players to display the spirit which supporters showed to re-establish the club.
"This club does not expect the world from their players," he said. "They don't expect you to play free-flowing football like Real Madrid, though it's a bonus if you do.
"They expect what they have given to this club - a deep care and commitment over a number of years.
"They faced adversity head on and had a never-say-die attitude to get where they are. That is all they want from us.
"My message to the players is to fight for what these fans have done over the last 13 years and make them proud of us in their performances. Then everyone can come together and say this is what Wimbledon is about."
Wimbledon's road back to Plough Lane
The original Wimbledon FC were forced to leave Plough Lane in 1991 following the publication of the Taylor Report, which recommended top-flight sides should play in all-seater stadiums.
The Dons moved to Selhurst Park and ground-shared with Crystal Palace until 2003, when the club moved to Milton Keynes and subsequently changed its name to MK Dons.
AFC Wimbledon were formed in 2002 in protest to the club's relocation and won promotion to the Football League in summer 2011.
They have played at Kingsmeadow since their formation but received planning permission to build a new stadium on the site of Wimbledon Greyhound Stadium on Plough Lane in December 2015.