Jose Mourinho sacked: Premier League managers 'surprised'
Last updated on .From the section Football
One of the most successful members of the Premier League "managers' union" left a hole when he was sacked by Chelsea on Thursday.
Jose Mourinho, 52, left the Blues seven months after he led them to their third Premier League title.
Chelsea, who finished eight points clear of the rest last season and won the League Cup, have lost nine of their 16 league games so far and are 16th in the table, one point above the relegation places.
Mourinho's peers have been giving their thoughts on the Portuguese.
Most have been "surprised" by Blues' decision to sack their most successful manager in history, who won three league titles, the FA Cup and three League Cups over two spells.
Premier League managers react
Manchester United manager Louis van Gaal:
"It was a big surprise for me, something that I did not expect.
"He is a fantastic manager with a record that nobody has in this football world, but it is still possible.
"The main thing is, first, the results, and secondly the chemistry between the players, the manager and his staff. I cannot say what was happening in Chelsea, but I was very surprised."
Manchester City's Manuel Pellegrini, who had a war of words with Mourinho and was twice referred to as "Pellegrino":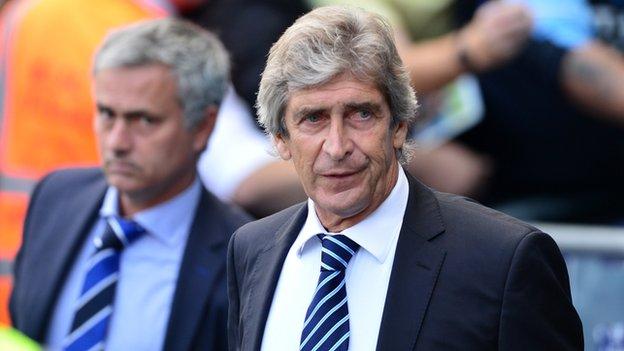 "The Premier League loses an important manager. Maybe a manager that I disagree with on a lot of things, but to think in a different way - he is not my enemy.
"It is a bad thing for the Premier League but I hope he can have a good experience."
"I think the Premier League will miss him, of course. Me, I don't have to miss anyone, but I prefer the Premier League with Mourinho than without Mourinho."
Norwich's Alex Neil:
"The power that players have is probably more than it's ever been.
"What has happened at Chelsea has typified where the game is at this present time. Clubs have got guys who are commodities worth millions. It's easier to get rid of one than 20.
"There's the team who won the Premier League to a team that is nowhere near the standard. The manager and players are the same. Something's not quite right."
Sunderland's Sam Allardyce in the Evening Standard:
"The news did come as a surprise to me.
"I accept that none of us managers can go on for ever if we're not getting the results that are expected, but I didn't think it would be this week - or just before the heaviest period of the season when the games come thick and fast.
"You change a manager just before that - I suppose only time will tell if it has the right effect or not. Even although the results haven't been good in recent weeks, Chelsea haven't been playing too badly.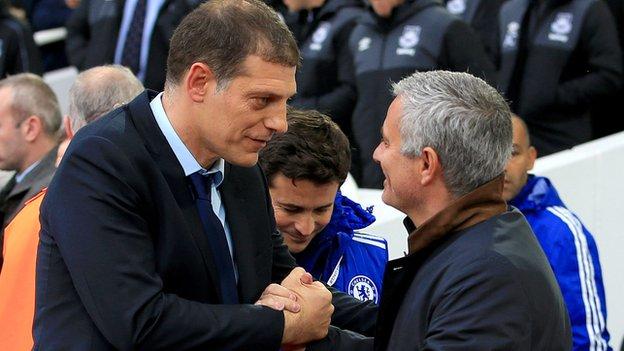 "It's like us all, though, when the goals dry up, you don't win football matches, whether or not you dominate possession. That seems to be Chelsea's ultimate problem and while they generally see more of the ball than their opponents and have more attempts at goal, because they don't appear to have prolific scorers any more, they're struggling."
On being accused by Mourinho of playing 19th century football in 2014, when he managed West Ham:
"When you play 19th century football and get a result, it keeps you in a job. If you play 21st century football and keep losing, you're out of a job."
West Ham's Slaven Bilic:
"I can only say about Mourinho that I'm definitely surprised. When you are the best in the business you have many people who would like you to fail.
"It's a big loss for the league and Premier League is going to miss him. I really hope he is not lost because we'll miss him a lot.
"Nobody knows if Jose would have turned it around. Chelsea are in an uncomfortable situation, but they are not panicking.
"I do believe he would have turned it. It's not the only time this happened to a big club. It happened to Borussia Dortmund [under Liverpool's Jurgen Klopp] last season.
"Mourinho going shows nobody is safe. You have to enjoy your job, do your best and work hard for the club you are in"
On rumours that Chelsea players might have intentionally underperformed:
"I don't believe any player will deliberately have a bad training, not to mention a bad game. They are top professional players."
West Brom's Tony Pulis:
"He's the greatest manager in this league at the moment.
"We have managed against each other for a bit. He has been very good to me. I am disappointed. I thought they would see it out. When managers don't do well, it is lovely to see clubs stick with them and then see the manager get through that sticky patch.
"I am a little bit disappointed Chelsea have not stuck with him. But who am I to criticise them? The big thing is that at all the top clubs in Europe, managers will be looking over their shoulder because one of the great managers is now available again.
Mourinho in the Premier League

Season

Managed

Won

Drew

Lost

Win %

2004-05

38

29

8

1

76.32

2005-06

38

29

4

5

76.32

2006-07

38

24

11

3

63.16

2007-08

6

3

2

1

50

2013-14

38

25

7

6

65.79

2014-15

38

26

9

3

68.42

2015-16

16

4

3

9

25
"The times I have spent with him, he is a different character. He is very funny and has a good sense of humour. He is good company.
"My little grandson came to the game last year. Mourinho was kicking around with him before the game and chasing after him.
"As a Premier League you want the best managers, the best foreign players and the best English players. He is, without doubt, one of the best managers. Losing him is not good for the league."
Bournemouth's Eddie Howe:
"I was surprised and disappointed when I heard about Jose Mourinho. It's a sad occasion when anyone loses their job."