Jimmy Hill: Former Match of the Day presenter dies aged 87
Last updated on .From the section Football286
Former Match of the Day presenter Jimmy Hill, one of English football's most influential figures, died on Saturday at the age of 87.
As chairman of the Professional Footballers' Association, he led the campaign for the scrapping of maximum wages for professional footballers.
He played 297 games for Fulham and was later manager and chairman at Coventry.
Hill - diagnosed with Alzheimer's in 2008 - made more than 600 appearances as presenter of Match of the Day.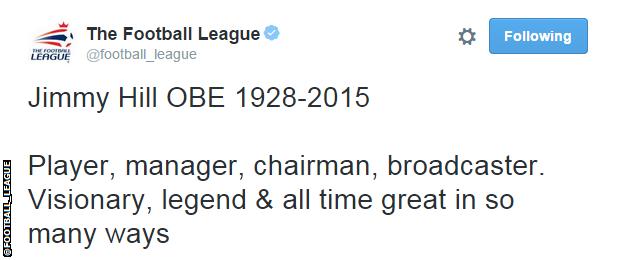 'An iconic and unique figure'
In a statement his agent, Jane Morgan, said: "It is with great sadness that his wife Bryony Hill and the children of Jimmy Hill have announced that Jimmy passed away peacefully aged 87 after a long battle with Alzheimer's disease. Bryony was beside him."
Lord Hall, the BBC's director general, said: "For generations of fans Jimmy Hill was an authoritative voice as both a presenter and analyst.
"He was committed to innovation in every aspect of the game, including broadcasting and always believed supporters came first. His influence lives on in the programmes we enjoy today."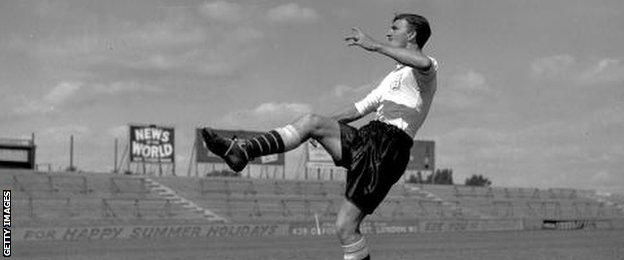 Barbara Slater, BBC director of sport, added: "Jimmy Hill was an iconic and unique figure and we are all deeply saddened by the news.
"He was one of the great innovators and a huge talent, a man ahead of his time with a personality that dominated his era both in football and broadcasting.
"Jimmy was also a dear friend and colleague to many at the BBC and will be greatly missed."
Sports minister Tracey Crouch said Hill had been an "authoritative and passionate voice" of football in her life, adding: "He was an icon of the game. May he rest in peace."
Some of the other ideas Hill helped make a reality included establishing a player's right to freedom of movement at the end of his contract and the introduction of three points for a win.
He also commissioned the first English all-seater stadium, lifted a ban on media interviews, introduced the first electronic scoreboard in 1964 and the first colour match-day programme.
The former Brentford and Fulham forward was appointed Coventry manager in November 1961, leading the Sky Blues to the Division Three and Division Two titles.
There is a statue of Hill at Coventry's Ricoh Arena where he was also chairman - a role he also held at Fulham and Charlton.
He became a broadcaster and head of sport for ITV in 1967, before moving to the BBC six years later where he became presenter of Match of the Day until he handed over the reins to Des Lynam in 1989.

'He was a great, great man' - football reacts
BBC commentator John Motson, a colleague for many years, said: "How do you sum up a life like Jimmy Hill? if I had to try and do it in three words it would be: innovator, instigator and inspiration. There is so much to say about Jimmy, it never stopped, it was original, revolutionary.
"He thought of things before other people did - the two big innovations that the modern generation take for granted - shirt sponsor names, unheard of back in the 70s and 80s, and the three points for a win. He was hugely instrumental in that."
'An instigator, innovator and inspiration' - Motson on Hill
Des Lynam, who also worked alongside Hill at the BBC, said: "He was a valued and highly talented colleague with a sharp incisive mind and excellent communication skills.
"He was also a true and loyal friend and great fun.
"I have much missed his company in the last few years since he became ill with Alzheimer's."
Match of the Day presenter and former England striker Gary Lineker said: "He had such an extraordinary life, he was an extraordinary man. He was a football man through and through.
"In my first ever presenting role at the European Championship in 1996 I was terribly nervous but Jimmy helped relax me. He was terribly magnanimous, and kind.
"My first experience of TV was actually at the 1986 World Cup, when I came in for the final, and he was the first person to congratulate me on winning the golden boot when Diego Maradona didn't score. He was always switched on in that way.
"He became a friend and we would sometimes play golf together. He was a great, great man."
FA chairman Greg Dyke said: "In many ways, Jimmy Hill was football. What was remarkable about Jimmy was that he went on to have so many different careers.
"He was a popular presenter, a hugely influential figure and, such was his style, he was loved by millions - even among those who didn't follow football.
"I knew him at the BBC. He always kept a simple charm and had a warm personality.
"Those are special qualities and helped him have a broad appeal, but he managed to combine that with a deep knowledge of football.
"His insightful analysis and strong-minded opinions helped bring the game to life and paved the way for the TV coverage of football that we love today. He was a true great of the game."
Fulham, whose players wore black armbands for Saturday's Championship match at Bolton, tweeted: "Jimmy's contributions to the club, on and off the field, were immeasurable."