Jimmy Hill: How football reacted to pioneer's death aged 87
Last updated on .From the section Football
Football has been paying its respects to Jimmy Hill, who has died at the age of 87.
During a long and varied career, Hill was a player, manager, chairman and broadcaster.
He became chairman of the Professional Footballers' Association (PFA) in 1957 and was responsible for the £20 maximum wage being scrapped four years later.
Match of the Day presenter and former England striker Gary Lineker told the BBC: "He was a genuine innovator, constantly thinking how to improve the game. He had a real love and affection for football but also really made things happen. He was very motivated, hugely ambitious.
"It's all very well having good ideas but most of his ideas became part of football's fabric.
"He will be remembered as a genuine football person in all facets of the game. There are so many different sides to him but it all involved football. He was a football man.
"There will be a great degree of sadness, l know he had been ill for a long time, but he had a long and expansive life. Over the next few days whenever we gather there will be some genuinely warm reminiscences."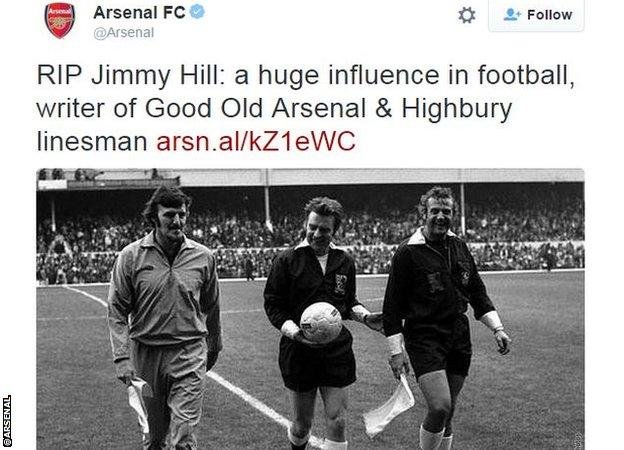 PFA chairman Gordon Taylor told BBC Radio 5 live: "As a young apprentice at Bolton I saw first-hand how Jimmy Hill had brought everyone together to abolish the maximum wage. All players owe him a big debt.
"He is probably the football personality of my lifetime, and I've been in the game for a long time. He was just such a gentleman, so innovative. He was always thinking about the game.
"He was the footballing equivalent of Christopher Columbus - a great explorer of ideas."
All players owe Hill a debt - Taylor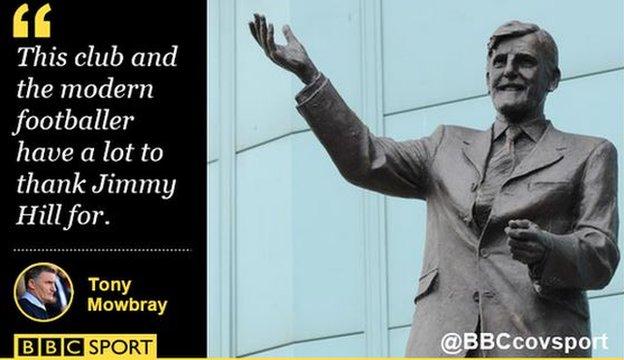 BBC pundit and former Liverpool defender Mark Lawrenson, who went on to work with Hill at the BBC, recalled: "I used to play a game then go home and watch Jimmy on Match of the Day.
"I remember just after signing for Liverpool we'd played at Arsenal. Jimmy did his post-match analysis on me. On the Monday I turned up for training - Bob Paisley came over and asked if I'd seen Jimmy on Match of the Day? That was the boss' way of telling me I'd done well, because I'd been picked out for praise by Hill.
"We owe a massive amount to Jimmy Hill. Three points for a win is one of his legacies. He made so many appearances on Match of the Day, and I worked with him loads.

"He was a funny man, very clever. A great fella and a massive, massive influence.
"Today's players should have a lot of thanks for what Jimmy Hill did in football. What a top bloke he was."
BBC commentator John Motson worked alongside Hill for many years and said: "The innovations he introduced when Coventry manager were remarkable.
"He created the first all-seater stadium, he started the 'Sky Blues Train' to take fans to away matches, he even rode a horse on the pitch and wrote a song that resounded round Wembley.
"He thought of things before other people did. He had that perception and humanity, but also a great sense of humour."
'An instigator, innovator and inspiration' - Motson on Hill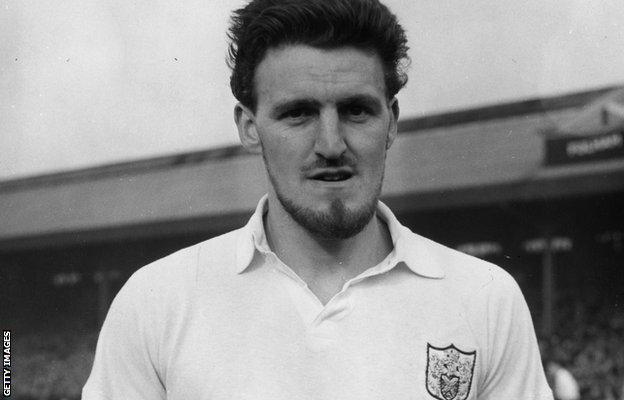 Former England goalkeeper Ray Clemence wrote on Twitter: "So sad to hear Jimmy Hill has passed away. A gentleman and pioneer of so much in football."
Current Coventry manager Tony Mowbray told BBC Coventry & Warwickshire: "There's a huge picture of Jimmy Hill in our dressing room. He was a visionary in an era when football needed pushing on.
"The modern footballer has a lot to thank Jimmy Hill for, and this football club is in his debt many many times over for what he brought to this club.
"It is a very sad day for his family and for everyone at this club."
Times journalist Henry Winter wrote on Twitter: "RIP Jimmy Hill. Player, manager, chairman, union man, linesman, broadcaster, visionary and wonderful company. Thoughts with his family."