Fifa hopefuls lobby Southern African bosses at Cosafa
Last updated on .From the section Football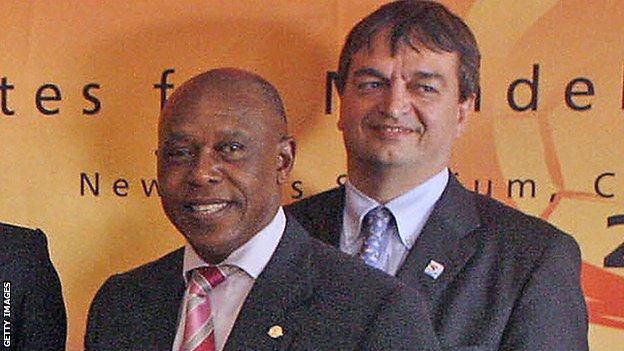 Three of the candidates hoping to be the next president of football's world governing body have been lobbying 14 association bosses in Southern Africa.
Tokyo Sexwale, Jerome Champagne and Prince Ali Hussein all addressed the Council of Southern African Football Association's (Cosafa) annual general meeting.
Salman Bin Ibrahim Al-Khalifa and Gianni Infantino are the other two eligible candidates to replace Sepp Blatter in February's polls.
Cosafa members:

Angola

Mozambique

Botswana

Namibia

Comoros

Seychelles

Lesotho

South Africa

Madagascar

Swaziland

Malawi

Zambia

Mauritius

Zimbabwe
South African apartheid-era political prisoner turned multimillionaire, Sexwale and the former French diplomat, Champagne both appeared in person at the meeting.
The pair laid out their plans to reform Fifa, which has been engulfed by claims of widespread corruption since summer 2015.
They showed a certain amount of solidarity as they recalled working together on South Africa's successful bid to host the 2010 World Cup.
But the show of unity began to show cracks when Sexwale pointed out that Fifa had never had an African president.
"The score is 111 to zero against Africa. For 111 years Fifa has not had an African," said Sexwale, adding that Europe would have pulled out of Fifa if the situation had been reversed.
"I am not here to keep quiet like a slave and pretend that these things are not happening."
Champagne, who served as a Fifa executive for nearly a decade until 2010, responded by saying the choice was more about experience and ability than nationality.
"It's not matter of origin," he said.
"It's a matter of knowing exactly of how to manage the structure."
"Because I was pushed out of Fifa by a coalition of people who are all today suspended, I know exactly what needs to changed. And that is the experience I can provide."
The air of unity returned toward the end of the news conference, with Sexwale quipping he would name Champagne as his general secretary if the Frenchman promised to do the same.
Prince Ali Bin Al Hussein of Jordan addressed the meeting via video link and promised to have African leaders in his team if he won the presidency.