European football: Barca lose count, Massimo's pint, Seville-war
Last updated on .From the section European Football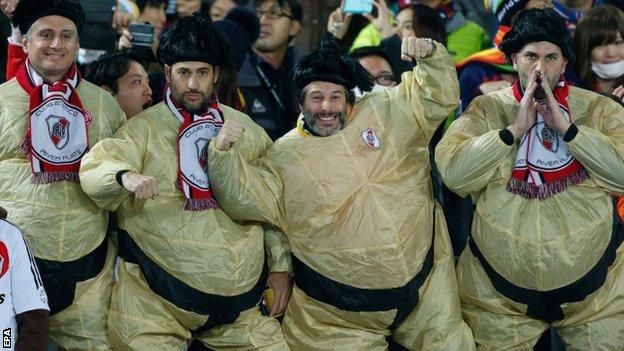 It has been another eventful weekend of European football, with Lionel Messi and Luis Suarez inspiring Barcelona to a third Club World Cup title.
Closer to home, Real Madrid put 10 past Rayo Vallecano, and Bayern Munich and Paris St Germain enter their winter breaks with commanding leads in their respective domestic leagues.
But what else might you have missed across Europe? BBC Sport has rounded up the best of the action.
Show us your medals, Barca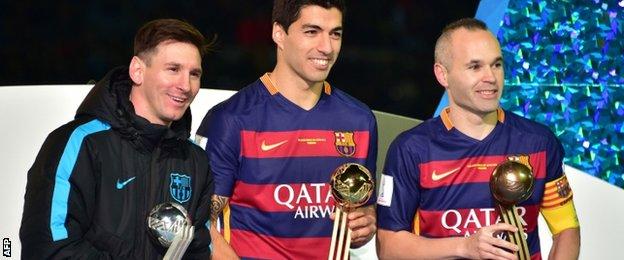 Speaking of the reigning European champions' 3-0 win over their South American counterparts River Plate in Yokohama, the Spaniards' claim of equalling Ahly's record of 20 international titles has been questioned by the Egyptian club.
Showing a keen eye for historical detail, and a clear love of red tape, a statement from the Cairo club said: "Barcelona counted three unregistered titles to their list, as the Inter-Cities Fairs Cup was out of Uefa's observation when it was launched.
"It was launched in 1955 and then it was cancelled in 1971. Uefa said before that they don't count Inter-Cities Fairs Cups in their sheets as it wasn't under their observation during that time."
Before Sunday's game, Barcelona had posted on their official website: "The Club World Cup in Japan presents us with the opportunity to draw level with the most successful club in the world in terms of international titles, as Egypt's Ahly have won 20 continental titles in Africa."
In the absence of an official ruling from Fifa, who clearly have more important issues to deal with right now, how about the clubs play-off to settle their differences? Perhaps then the winners will be justified in calling themselves the best in the world.
Maccarone gets straight to the pint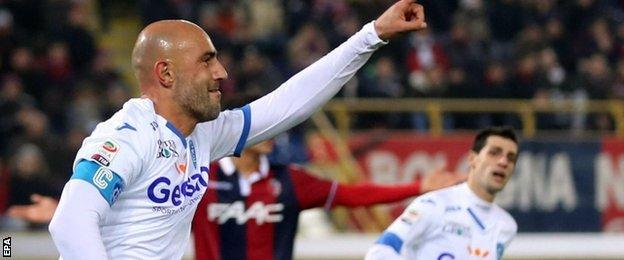 Middlesbrough supporters who were driven to drink by the erratic displays of Massimo Maccarone during his five-year spell at the Riverside Stadium can be forgiven for thinking the story has come full circle.
If anything is deserving of a mid-match beer, scoring twice in the space of six minutes is probably it.
That's exactly what the veteran forward did for Empoli in a 3-2 victory over Bologna, celebrating his feat by running to the stands for a cheeky gulp with a couple of mates.
After inspiring a club record fourth consecutive Serie A victory to put his side up to sixth, the 36-year-old former Italy international explained: "They were my friends in the stands.
"They came to visit and we decided to have a beer together. They are Bologna fans, but friendship goes beyond football.
"I didn't go back for another sip after the second goal because I didn't want to fail a doping test for excessive alcohol!
"Empoli deserve everything we're achieving right now. Our fans are fantastic and stay close even during difficult moments, so it's only right they get to celebrate the good times."
Hell for Adel
QPR must really regret parting company with Adel Taarabt.
Hot on the heels of being nominated for taking the worst-ever corner kick, the Moroccan midfielder has made his bid to muscle into the same category when it comes to penalties.
It's difficult to tell whether his effort for Benfica B in a 3-0 defeat against Porto B was a penalty or a back-pass. Either way, the grateful goalkeeper certainly had plenty of time to drop on the ball as it rolled apologetically towards him.
Taarabt has hardly set the world alight since leaving Loftus Road in June to sign a five-year contract with the Portuguese club, despite scoring a stunning solo goal for the stiffs against Braga earlier this month.
The 26-year-old posted footage of that on his Twitter account, but funnily enough, as yet, there's no sign of his penalty.
Taarabt also played for Tottenham and Fulham during a turbulent seven-year spell in this country that saw him make more than 150 Premier League appearances.
He is yet to play a senior game for Benfica, amid reports that he's been told to shed the pounds before he will be considered for the first team. He certainly didn't put his full weight behind his latest spot kick.
Old Trafford outcasts United in their goals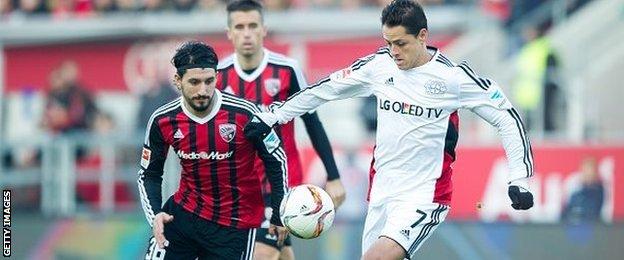 In a season of unwanted statistics for Manchester United, here's another. They've been outscored by Javier Hernandez and Angel Di Maria.
Anthony Martial's second-half strike in the 2-1 home defeat by Norwich was their 22nd in 17 Premier League games, a modest record in part down to them having had just seven shots on target in their last four home league games.
Over in Germany, Hernandez claimed the only goal for Bayer Leverkusen against Ingoldstadt, his 10th in his last eight league appearances, and 18th in all since moving from Old Trafford for £7.3m four months ago.
Rio Ferdinand recently took to Twitter to reiterate his belief that the 27-year-old would have joined the list of the most prolific strikers seen at Old Trafford had he been given an extended run in the side.
Di Maria hasn't been quite so productive in front of goal, but nevertheless his double in a 3-0 victory over Caen was the Argentina midfielder's eighth and ninth since he joined Paris St Germain as United took a £14.5m loss in August, 12 months after paying a British record £59.7m for his services.
In all, that's 27 goals in 37 combined starts for the pair who were deemed surplus to requirements by Louis van Gaal. Add your own punchline.
Hostilities renewed in Spanish Seville-war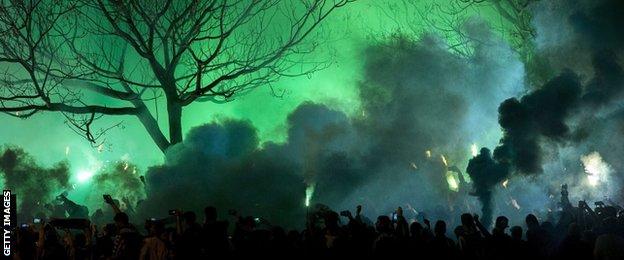 It was honours even as Real Betis and Sevilla renewed hostilities in the 122nd Seville derby.
A little over 100 years after the first meeting, and 20 months since their last head-to-head following Real Betis' return to the top flight, the rivals fought out an uncompromising stalemate, in front of a crowd of 52,725 at Estadio Benito Villamarín.
The 30th competitive draw between the clubs maintains Sevilla's three-point advantage over their near neighbours, who they are separated from by just two miles in the Andalusian capital.
They will next meet in the last 16 of the Copa del Rey in January.
All over by Christmas?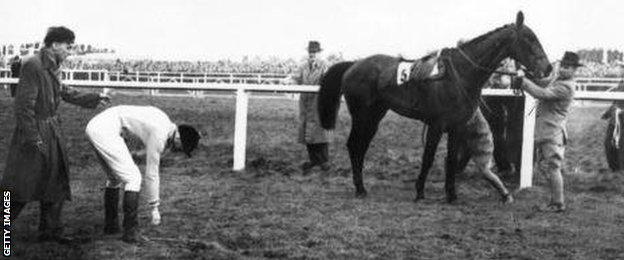 We're not encouraging Red Star Belgrade to start counting their chickens just yet, but it's looking pretty good for their SuperLiga title hopes.
It would take a collapse of Devon Loch proportions not to clinch the Serbian domestic league next year as they head into the winter break in a commanding position.
Their 25 point lead over second placed Cukaricki dwarfs even Paris St Germain's 19-point advantage in France, or Bayern's eight in Germany.
It's a lofty status that's come courtesy of an impressive 19-match winning run, and 22 games unbeaten in all in the league. Their goal difference of plus 50 isn't too shabby, either.
Red Star return to action in February, with a 27th league title surely heading their way. If not, Devon Loch's infamous Grand National demise almost 60 years ago might just have a rival when it comes to shorthand for great sporting chokes.