Mythbusting: Do teams play worse after European games?
Last updated on .From the section Football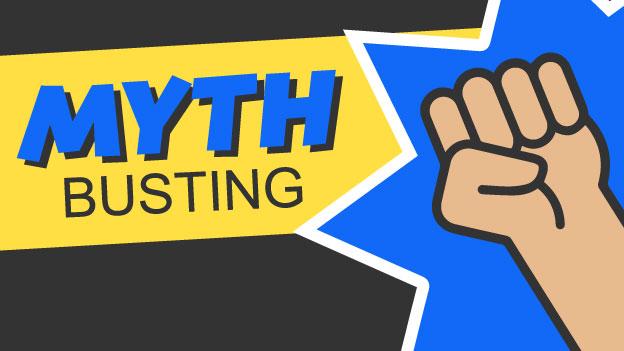 In a new series, we are analysing popular football myths to find out whether they are based on fact - or fiction. Do they stand up to scrutiny? Or are they cliches that can be banished once and for all?
The myth: Teams play worse after European games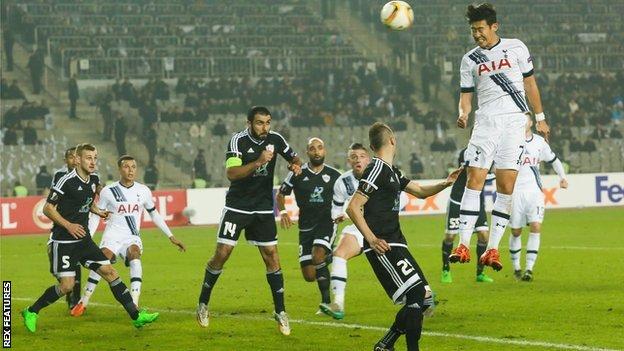 Does the myth stack up?
We compared the win rate of teams in matches immediately following a European game with their win rate across that season as a whole.
Of the six English teams who have competed in Europe most often over the past six seasons, three have performed better in the Premier League after European matches, two have seen their results suffer on their return to domestic action and one, Tottenham, have exactly the same win rate.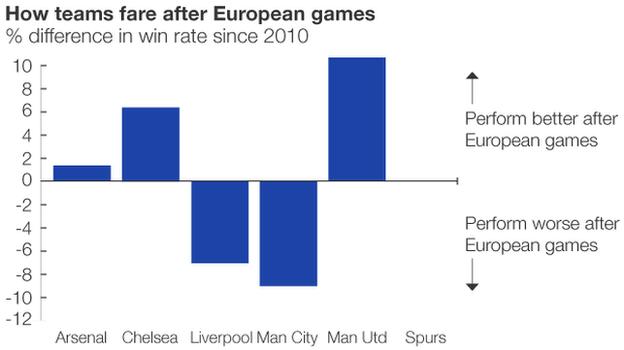 There have even been two instances where teams have won every game after a European match - Manchester United in Sir Alex Ferguson's final season as manager in 2012-13 (Champions League) and Tottenham under Harry Redknapp in 2011-12 (Europa League, excluding qualifying matches).
That achievement by Ferguson's side was particularly impressive since their fixtures after European games that season included away matches at Chelsea (won 3-2), Manchester City (won 3-2), Liverpool (won 2-1) and Newcastle (won 3-0).
For United, this season is the first time in the six-year sample period that their domestic form has suffered after playing in Europe. That did not happen under David Moyes, or in the three previous seasons under Ferguson.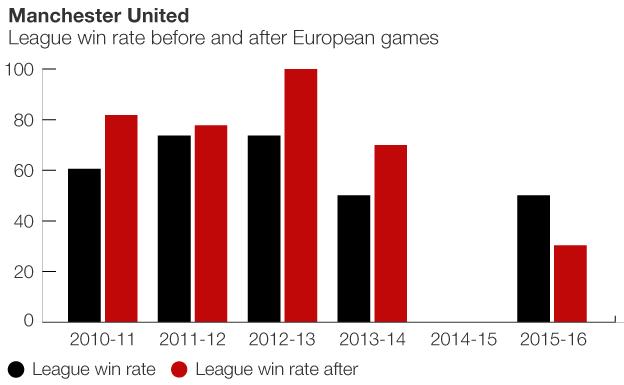 Although Tottenham did record that one 100% season during their Europa League campaign (including a 4-0 win against Liverpool and 2-1 victory against Arsenal), that is the exception rather than the rule for the White Hart Lane club.
In five of the six sample seasons, playing in Europe - and predominantly on Thursday nights - has affected their league form. But such was the dramatic positive difference in that 2011-12 season that the overall effect is neutral.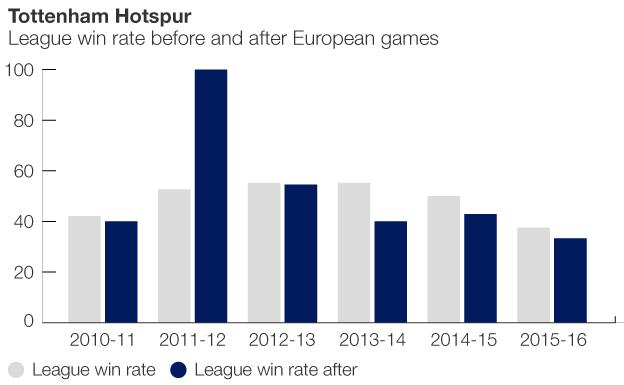 Arsenal are the second-least affected team overall by European matches - they have performed better after those fixtures in three seasons and worse in three seasons, but the difference in their win rate in each individual year is relatively small.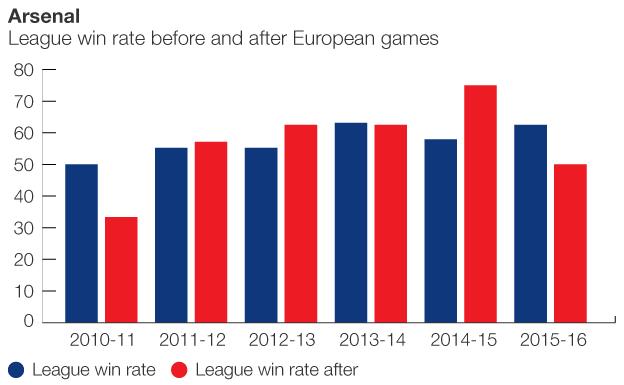 And what about Chelsea? In the final two seasons of Jose Mourinho's second spell as manager, the Blues fared worse after European matches, something that had not happened in previous years. Their record this season - both in the league and in Europe - is the worst it has been during the period in question.
Not a surprise perhaps given their form, but certainly something for interim boss Guus Hiddink to work on.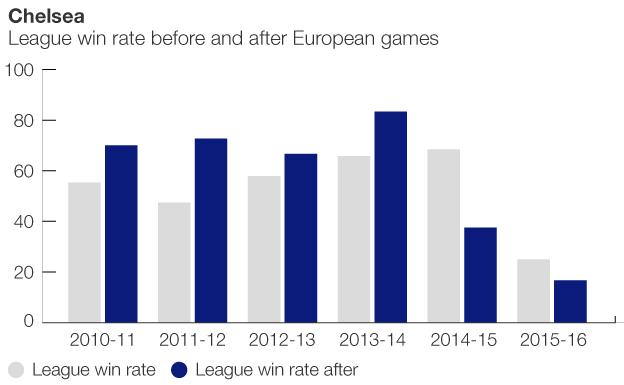 Manchester City have struggled to make a significant impact on the Champions League since returning to the competition in 2011-12.
And it has not helped their domestic form either. Only once in the six-year period - five of them in Europe's elite competition - have they performed better after European matches than before them.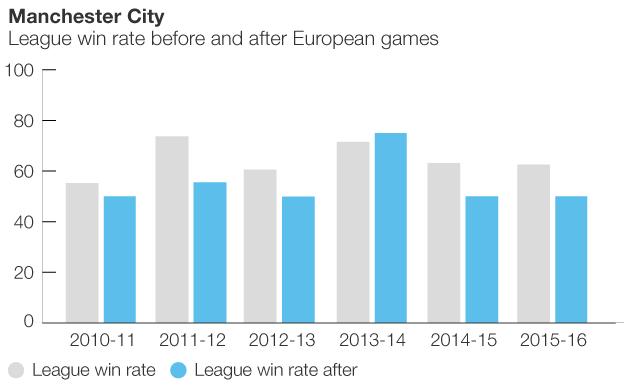 Liverpool have been in Europe for four of the six seasons, with their win rate after continental matches this season lower than at any other stage. They have been hard to beat after their Europa League fixtures though, losing just once in six games.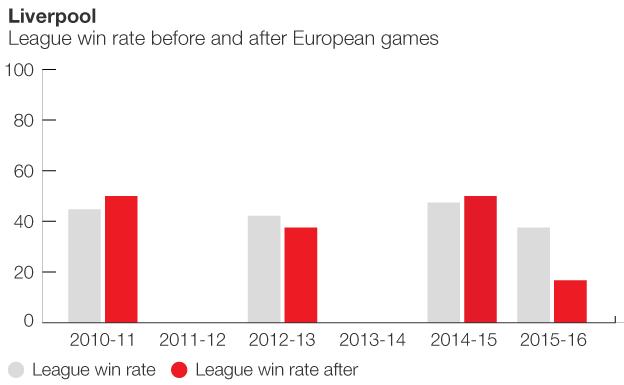 The verdict
Sixty per cent of Premier League clubs in our study either do better or exactly the same after European games as they do in the rest of their matches. Of course, there are lots of variables at play - squad depth, quality of opponent and travelling time to name a few - but it is pretty clear that there is no general pattern of teams doing worse after they play in Europe. To some it is even an apparent boost to their domestic form.
So we reckon that is...