Arsene Wenger: Arsenal belief strong after Man City win
Last updated on .From the section Arsenal
Arsenal's victory over Manchester City has given them the belief they need in the Premier League title race, says manager Arsene Wenger.
The Gunners have not won the title since 2004, but goals from Theo Walcott and Olivier Giroud were enough against City despite Yaya Toure's late strike.
"It gives us confidence, strength and belief," said Wenger, 66.
"We have a bit more maturity in the side now, which you could see in the game when we were under pressure."
'Spirit, organisation and brilliance'
Arsenal are now four points clear of third-placed Manchester City, but remain two points adrift of leaders Leicester City.
With defending champions Chelsea 15th and seemingly out of contention, the north London side are now favourites to win the league.
They are unbeaten in their last six matches and five of Arsenal's last six top-flight title wins have seen them in second place at Christmas, including two of their three Premier League titles.
"Two or three years ago we were top for a long time but what is special is that this time we lost important players, had to go to Olympiakos, play at Villa and today, and we won those games," said Wenger.
"That is positive. I believe that we have shown our talents of spirit, organisation and brilliance all together and that gave us three points.
"When we did not have the legs any more we relied on the spirit and that got us through in the end."
Problems for City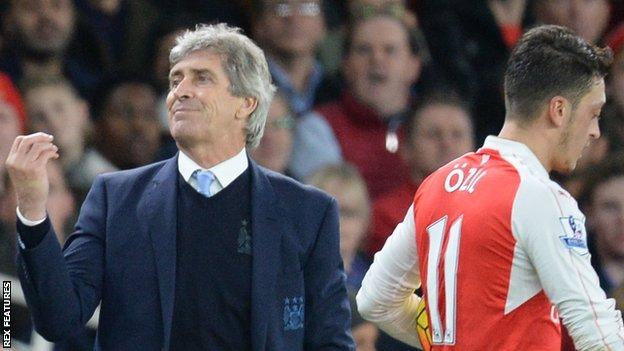 Manchester City's late fightback - led by Toure - was too little too late against the Gunners and masked a poor performance that allowed Arsenal to dominate for long periods.
They looked short of their best at the Emirates, with key defender Vincent Kompany still sidelined by injury and star striker Sergio Aguero making his way back from a spell on the sidelines.
"It was important for Sergio to return to the team, maybe he needs a couple of games to return to his performances," said Pellegrini.
"There are 63 more points to win, a lot of games and the way we played in the second half shows that we will continue to fight for the title."
City have lost five games this season and the last team to lose more than five games before Christmas and still win the title was Everton in 1986-87.
However, Pellegrini countered: "I don't know about statistics, but of course we are not out of the title race. If you don't believe, you are not in the profession."