Celtic: Scott Brown backs side for unbeaten season run-in
Last updated on .From the section Football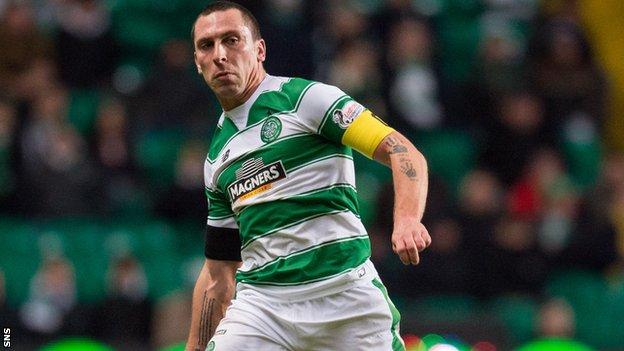 Captain Scott Brown believes Celtic can go unbeaten for the rest of the current campaign.
The reigning Scottish Premiership champions lost at home to Motherwell on Saturday, allowing Aberdeen to move to within a point of the leaders.
However, Celtic do have a game in hand over the Dons.
Key stat
Last season, Celtic played 27 domestic fixtures between 27 December and the end of the season and lost only two of them, winning 21
"It's one result," said Brown, 30. "We could go the rest of the season without getting beat. We have the belief and the manager's instilled that in us."
Brown is currently recovering from a knee injury.
"I'm doing not too bad," he explained. "I'm getting there slowly. It will probably be another eight weeks until I'm back fully fit and back on to the park.
"I'm missing it just now but we've got a great bunch of lads there. We've got a lot of faith in them and we'll be fine.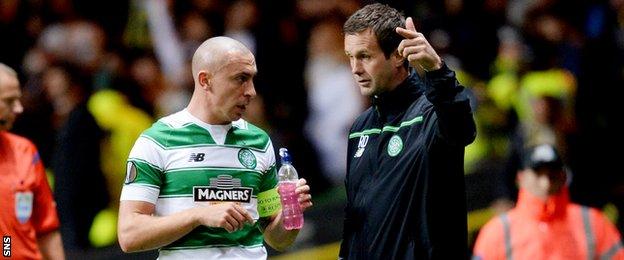 "We've had those results [like Saturday's] with me, with other people in the team, without them. It's not about missing one or two people, it's all about the team.
"That dressing room just now, it's good enough to go and win the league I believe, whether we bring in other people. We might lose people but at the end of the day, whoever we do bring in or we don't, we're good enough.
"We've not played well enough all season. But we know we can kick on and we need to kick on. We've got Aberdeen a point behind us even though we have got a game in hand.
"We are in a title race. Everyone expects us to run away with it but it's never that easy, no matter who you're playing. Whether Rangers are in the league or not, it's always hard when people play against us at Celtic Park.
"They just defend and they try to catch you on the counter attack. It's always hard for us going forward when they've got 11 men behind the ball."
Celtic with Brown this season

Celtic without Brown this season

W

12

(60%)D

5

(25%)L

3

(15%)
W

6

(60%)D

2

(20%)L

2

(20%)
Manager Ronny Deila has been the subject of criticism but Brown feels it is "harsh when you're top of the league".
"We had one poor result there and another a couple of weeks ago against Kilmarnock [0-0]," said Brown.
"But, if we go on a run of five or six games, it'll all be forgotten about.
"He's done a good job last season. We were really unlucky not to go and get the treble. Just a little bit of luck here and there would've been nice or a couple of good refereeing decisions.
"Things just aren't coming off for us and we're maybe not creating enough chances as we should be. We've got a lot of possession. Possession sometimes doesn't mean a lot.
"This season, we've had a slow start but we need to kick on. We've not yet showed our true colours this season properly for a run of games and I believe that we're going to do that soon."
Former Celtic defender Mark Wilson believes "certain criticism is deserved but that comes with playing for Celtic and managing Celtic".
"Celtic and Rangers fans are used to going to Ibrox and Parkhead and watching their side win and win convincingly with some style," he told BBC Radio Scotland's Sportsound.
"It's not happening just now for Celtic and that's why the criticism is coming from people in the media."