Coventry City extend Ricoh Arena stay until 2018
Last updated on .From the section Football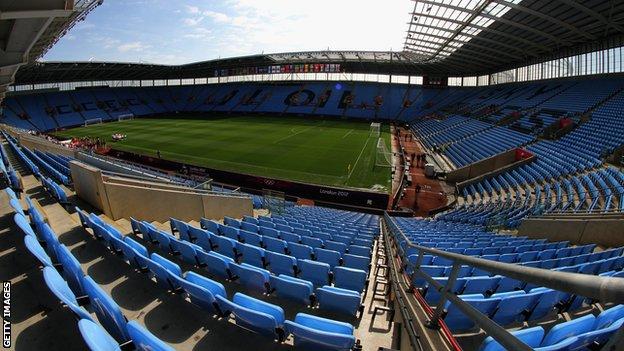 Coventry City will remain at their Ricoh Arena home until at least the end of the 2017-18 season.
The club's managing director Chris Anderson had said last month that the Sky Blues had located a site to build a potential new stadium in the city.
But Coventry, fourth in League One, will instead continue to share with Premiership rugby union side Wasps.
"I have already said on several occasions that it is important for us to have security," said Anderson.
"I would only add that I appreciate the co-operative spirit in which we have come to an agreement with Wasps."
Coventry first moved to the Ricoh Arena from Highfield Road in 2005 but, following a long-running row over rent, agreed a deal to play their home games during the 2013-14 season at Northampton Town's Sixfields ground.
The Sky Blues returned to the Ricoh Arena in August 2014, and since last December have shared the stadium with Wasps, who completed a full takeover of the ground.
"Naturally we are very pleased that Coventry City will continue playing at the Ricoh Arena until at least the end of the 2017-18 season," said Wasps chief executive David Armstrong.
"We have always said we are keen to work alongside the football club and for the Sky Blues to stay at the Ricoh Arena, which continues to be their home as well as Wasps' home."