Louis van Gaal not a Man Utd coach - Kanchelskis
Last updated on .From the section Man Utd
Louis van Gaal "doesn't understand English football" and is "not a head coach for Manchester United", says their former winger Andrei Kanchelskis.
But Kanchelskis believes the Dutchman should remain in charge until the end of the season, despite a six-match winless run in all competitions.
Van Gaal walked out of Wednesday's news conference in protest at media reports that his job is under threat.
"I am disappointed with the way United are playing," Kanchelskis said.
"Under Alex Ferguson, we played in a more attacking style of football and played in a 4-4-2. Van Gaal sees things differently. This is not a head coach for Manchester United.
"I just don't think that Van Gaal understands English football. A team needs to have leaders, like Bryan Robson, Roy Keane, Peter Schmeichel, who can give the right things at the necessary moment and can show their leadership qualities.
"The coach does not want this and this is the reason for such disastrous results."
'My way or the highway' with Van Gaal
Van Gaal, who has a contract at Manchester United until 2017, left Wednesday's news conference after four minutes and 58 seconds, answering just three questions.
He started by requesting an apology from the gathered members of the media for questioning his future at Old Trafford.
Raymond Verheijen, who has previously worked as a coach under Van Gaal, believes his compatriot's reaction resulted from his frustration at not being able "to control" the media.
"You have two categories of coaches - teachers and managers," Verheijen told BBC Radio 5 live. "Teachers are 'my way or the highway' they have a rigid approach.
"Louis van Gaal is clearly a teacher. They want to control everything, which is fine internally at Manchester United but the mistake he makes is that he wants to control the outside world. The media is part of the outside world and what he should understand is that is something you cannot control."
Despite the fractious relationship with the media, Verheijen expects Van Gaal to see out his contract at United.
"Louis is not a quitter, he is a fighter," he added. "He will fight until the end and look to stay the full three years, maybe even longer."
Van Gaal and Hiddink 'complete opposites'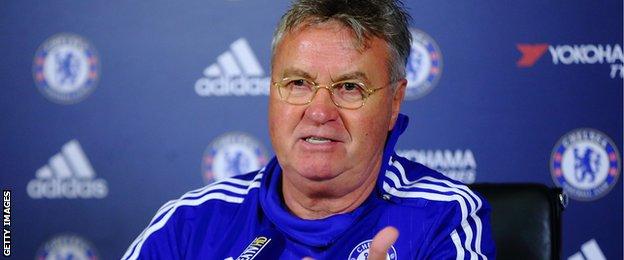 Van Gaal has been joined in the Premier League by fellow Dutchman Guus Hiddink, who replaced Jose Mourinho as Chelsea boss earlier this month.
"Guus Hiddink is the total opposite of Louis Van Gaal," added Verheijen, who was Hiddink's assistant with the Netherlands at the 2002 World Cup.
"Van Gaal is the ultimate teacher. He wants to improve the potential of his players every day. Hiddink is more of a people's manager, he goes with the flow.
"Hiddink wants to get the maximum out of his players by creating a very nice environment so that they feel really comfortable and are able to perform every week."