Ostriches and the Hokey Cokey: Football's alternative awards
Last updated on .From the section Football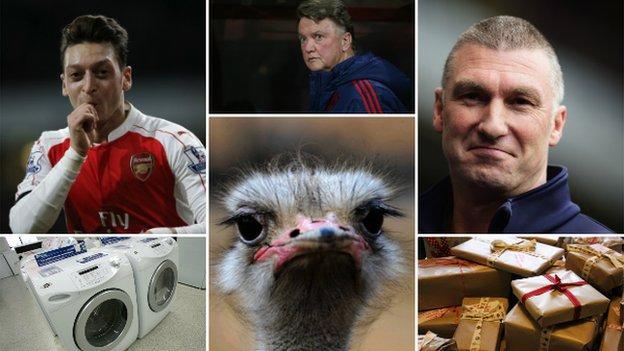 With 2015 drawing to a close, BBC Sport asked for your ideas for our alternative end-of-year awards.
We picked our favourites - featuring ostriches, the Hokey Cokey and dodgy hamstrings - for you to enjoy.
Least likely to own an ostrich farm - Nigel Pearson
"I think you must be an ostrich. Is your head in the sand?"
Ah, Nigel Pearson. It feels like an age since Leicester City managers were under pressure and calling journalists ostriches.
But there was a time, before they surged to the top of the Premier League, when the Foxes used to lose to Chelsea - back in April, in fact. It was after a 3-1 defeat by the new Premier League champions that Pearson produced a weird outburst during a press conference.
Pearson had suggested that his players had faced plenty of criticism during the season. When asked by journalist Ian Baker to provide examples, Pearson went on to compare the reporter to an ostrich and labelled him "stupid". Pearson eventually drew a line in the, ahem, sand by apologising to Baker.
Michael Owen award for services to hamstring research - Daniel Sturridge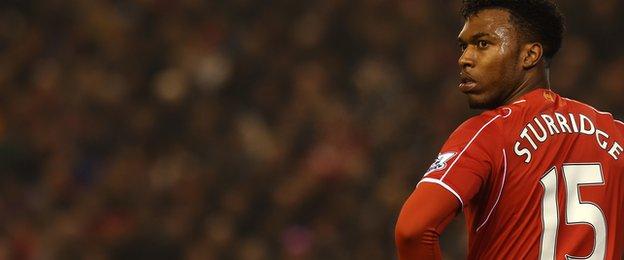 Those of a younger generation probably don't realise that Daniel Sturridge used to play football for Liverpool. There was a time when the striker played 42 games and scored 28 goals for club and country in one year (the 2013-14 season) as Liverpool challenged for the title.
Now, of course, the England international spends his time recuperating and recovering and posting messages on social media, informing fans of his latest comeback. A bit like the Terminator, but with less menace.
In the last 18 months, the striker has made just 24 appearances because of various injuries. He made a brief return a month ago only to suffer another hamstring injury. Former Liverpool striker Michael Owen is still probably the hamstrung King but, at 26, Sturridge still has time to surpass him.
Team you would least like to be in charge of your washing - Norwich City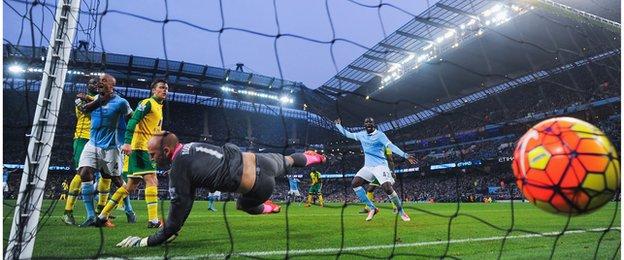 Leading washing powder companies probably won't be asking John Ruddy to lead one of their advertising campaigns. In their 18 Premier League matches this season, the Canaries have kept just two clean sheets and conceded 32 goals, which is an average of 1.68 goals per game.
At least the Canaries can look down on bottom-of-the-table Aston Villa. Even Villa's shaky defence have managed two clean sheets, though.
Statue of the Year - Louis van Gaal on the Manchester United bench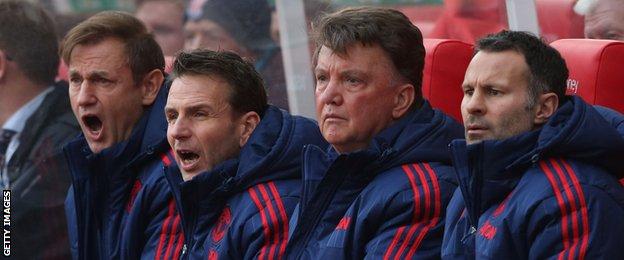 Unless you've been on another planet for the last two years, you'll know about Frozen, the 2013 box-office smash which tells the story of a princess, whose magical icy powers encase the province of Arendelle in an eternal winter.
Has the spell been cast as far as Stretford?
Manchester United manager Louis van Gaal has barely flinched while watching his side melt away from the title race. And his ice-cold, 1,000-yard stare has not gone unnoticed by the frustrated fans.
What happened to the jolly, wise-cracking Dutchman who arrived at Old Trafford last year? Let it go, Louis.
Best Hokey Cokey Act - Fabian Delph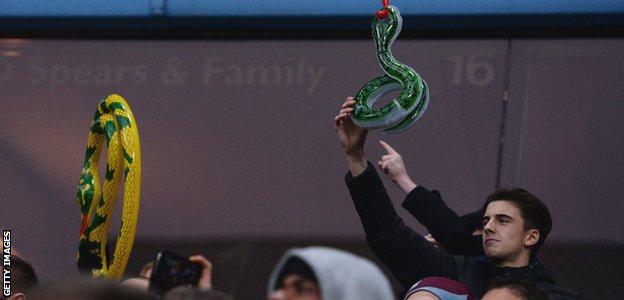 Remember when Fabian Delph was Aston Villa captain, and then he nearly went to Manchester City? And then he decided against it? And then he went anyway?
The England midfielder's summer of indecision will live long in the memory.
In the space of eight days, the 26-year-old had posed in a promotional photo for Villa's new shirt, gone for a medical at City, then had a change of heart, but then finally hopped aboard the Etihad Express for a tidy £8m.
Since then, plastic snake sales in the Aston area have gone through the roof thanks to angry Villa fans. Ouch.
Most considerate player - Mesut Ozil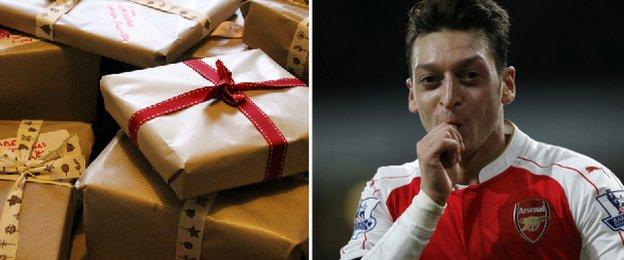 Wouldn't Mesut Ozil be the perfect companion for a game of pass the parcel? Content to pass and receive all day long while others take the glory. When it comes to creating goals, the playmaker has it all wrapped up.
This season's statistics prove that the midfielder is a generous guy. He's made an unrivalled 16 assists and is likely to break Thierry Henry's Premier League assist record of 20.
The Germany international has already broken the Premier League record for the most consecutive assists in a season when he notched his sixth in a row, against Tottenham, in November.