Mohamed Bangura could quit Sierra Leone team
By Ian Hughes & Mohamed Fajah Barrie
BBC Sport
Last updated on .From the section Football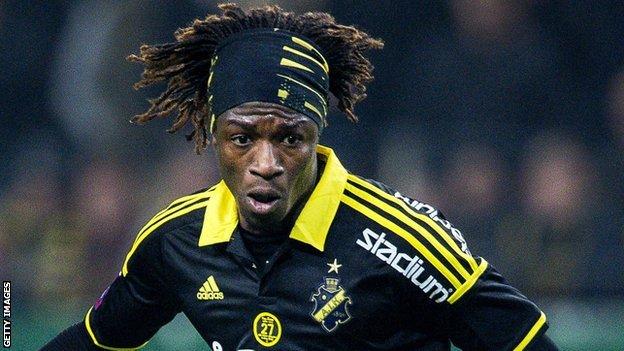 Sierra Leone striker Mohamed Bangura could quit international football if the country's football association does not resolve its problems.
The SLFA is beset by infighting and governmental interference and Bangura says he has had enough.
"If the fighting continues, I will not respond to call-ups," he told BBC Sport. "If nothing is fixed what is the point of being there?
"The stakeholders are not doing a good job for the football team to achieve."
The 26-year-old is also unhappy at what he considers to be unfair criticism of the Sierra Leone players.
"No-one wants to be in a national team and not achieve. People put the blame on the players but what can the players do? Football is all about preparation, we are not magicians, we are not like God who can dictate what will happen," he said.
"If we fail to prepare then we prepare to fail. We are not going to achieve anything even if we have players from the top leagues.

"Since I joined the national team I have never had an enjoyable moment.
"People criticise the players, they say 'these players never play for their country' or 'they only deliver when it comes to their club'. But, think about it, we never have to fight for the basics at our clubs - we have everything we need to prepare."
Bangura, who recently joined Chinese club Dalian Yifang, claims Sierra Leone players are not being players with the most basic resources.
"The players suffer. Many times the players have had to sleep in an airport. Players don't eat - sometimes we have had to buy some players some food to eat.
"And then some people suggest we are not serious, that we are bluffing and we don't work for our money. No-one gives the Sierra Leone players gifts."
In October striker Kei Kamara announced he was making himself unavailable for the Leone Stars because he felt the SLFA lacked respect for the players.
Bangura said he fully supports his fellow forward and indicated he may soon follow his lead - and that could mean he will not be part of his country's attempt to qualify for the 2017 Africa Cup of Nations.
"Kamara is tired. I am tired. That's why I never wanted to be part of it (the national team). I am fit to play but I don't want to come because we can never achieve unless we sort out the problems," he added.
"We have games coming up. Preparation has to start now. But if the fighting continues, then what can they expect? I have my new club that I have to focus on."