Guernsey FC manager Tony Vance targets 2016 promotion
Last updated on .From the section Football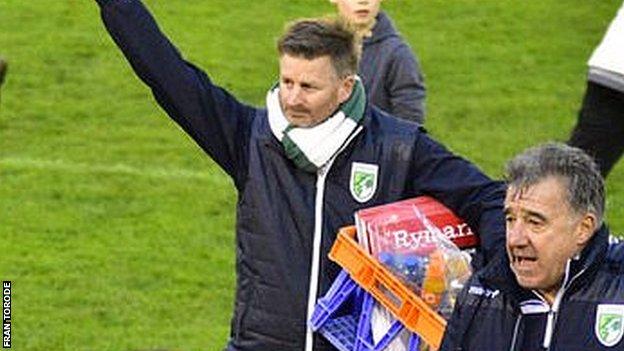 Guernsey FC boss Tony Vance says his aim for 2016 is to lead his side to promotion to the Ryman Premier League.
The Green Lions are up to third in the league's Division One South after a 4-4 draw at South Park on Sunday extended their unbeaten run to seven games.
"It's got to be promotion, that's what we're aiming for and I'm not going to hide behind that," Vance said.
"To be fair we always know that these things are stacked against us with the logistic issues we face."
Guernsey FC were formed in 2011 and won two successive promotions to leave the Combined Counties League and enter the Isthmian League.
After making the league's play-offs in 2014 they finished 10th in 2015, 15 points off the play-offs.
"First and foremost we have to get into the play-offs, and if we can get into a home position, second or third, for a home semi-final, that gives us our best chance," Vance told BBC Guernsey.
"But we've only just really started to earn the right to talk about that now we're in third place and we've got to stay there."