Hearts manager Robbie Neilson keen to blood young players

By Brian McLauchlin
BBC Sport Scotland
Last updated on .From the section Football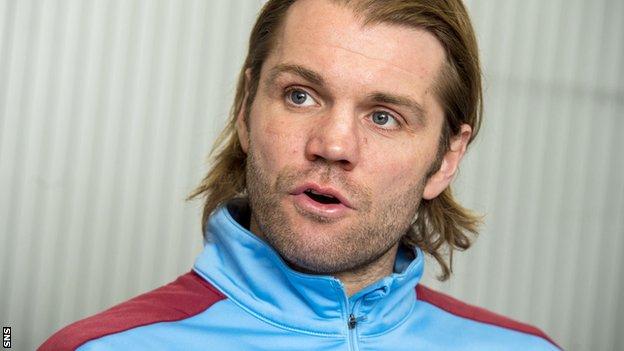 Hearts head coach Robbie Neilson says the club will be looking to give more of the youth players at the club an opportunity in the New Year.
Neilson says that there are a number of young players approaching a level that will allow them to begin to feature in the first team on a regular basis.
"We've got another batch (of young players) that are almost ready to come through." Neilson told BBC Scotland.
"They will start getting blooded in the next six months to a year."
After promotion from the Championship and an impressive start to life back in the top flight, Neilson wants to see players of a higher calibre coming through the Hearts academy.
"The standard of the young player has to go up. We are not looking like last year at bringing guys in that could play in the Championship.
"We are looking at young boys progressing to get into the team at the top end of the Premier league."
Neilson says they will be looking to farm out players in the January transfer window to ensure they are ready for the start of next season.
"The likes of Dario Zanatta, Angus Beith, Robbie Buchannan and Liam Smith are all nearly there. We will look at a couple of them in January and possibly try to get a good level of loan deal somewhere we can get them out so they are prepared for next summer and be part of the first team."
Neilson is also looking to add at least one new player to his squad during the transfer window with the emphasis being on a striker.
He also hopes to be able to hold on to all his key players but concedes if a bid comes in that meets their valuation there could departures.
"We hope we don't lose anyone we don't want to." Explained Neilson.
"We are in a position we don't have to sell but every player has a price. There are a lot of teams interested in our players down south and if they come and are willing to pay the money that is acceptable then the player will go."
"We are looking to possibly bring one in. We are working on that at the moment but it is difficult at this time of the year.
We did really well last year to get Genero Zeefuik but there is not able of players like that about. Anybody that is available is generally surplus to requirements somewhere else or hasn't played for a while.
"We are looking to get a striker in but it is difficult. Probably a loan deal but I would like to get something permanent."