Rangers loans pay off Mike Ashley's Sports Direct
Last updated on .From the section Football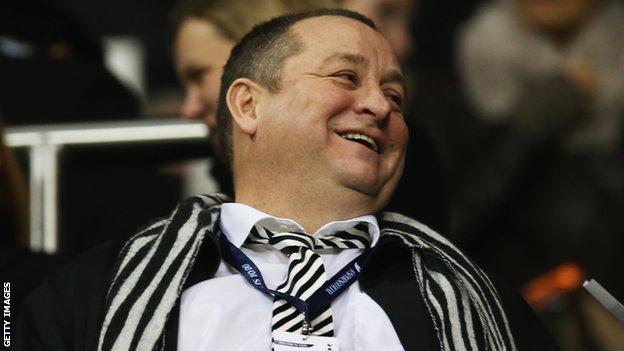 Rangers received loans worth £6.5m in order to pay off a loan from Mike Ashley's Sports Direct retail company.
The new money came from directors and shareholders.
Hong Kong-based fans Barry Scott and Andy Ross, plus Rangers International Football Club director John Bennett, have provided funds for the first time.
Chairman Dave King, via New Oasis Asset Limited, director Douglas Park and shareholders George Letham and George Taylor have previously supplied loans.
A £5m loan from Sports Direct, owned by Newcastle United owner and Rangers shareholder Ashley, had helped the Glasgow club stay afloat nearly a year ago.
The retail company has a merchandising deal with Rangers and, by paying off the loan, the Scottish Championship leaders regain securities over key assets such as their Ibrox Park stadium, Murray Park training ground and the Albion car park.
For the duration of the loan, Ashley was also granted a further 26% of shares in Rangers Retail Limited, 49% of which was already owned by the English businessman.
"The loans to RIFC were primarily utilised to fund repayment of the Sports Direct facility, with the balance going towards the group's working capital requirements," said a Rangers website statement.
"RIFC's board is delighted to welcome the new lenders who, as long-standing supporters of the club, fit exactly into the profile of investors that RIFC has encouraged during this ongoing rebuilding phase."
In November, Ashley, who owns nearly 9% of shares in Rangers, won a court order preventing fellow shareholders from voting at their annual meeting to limit his influence on the club.
Rangers' board wanted to remove the voting rights of shareholders with an influence in another club.