Garth Crooks' team of the week: Rooney, Alli, Willian, Defoe

By Garth Crooks
Football analyst
Last updated on .From the section Premier League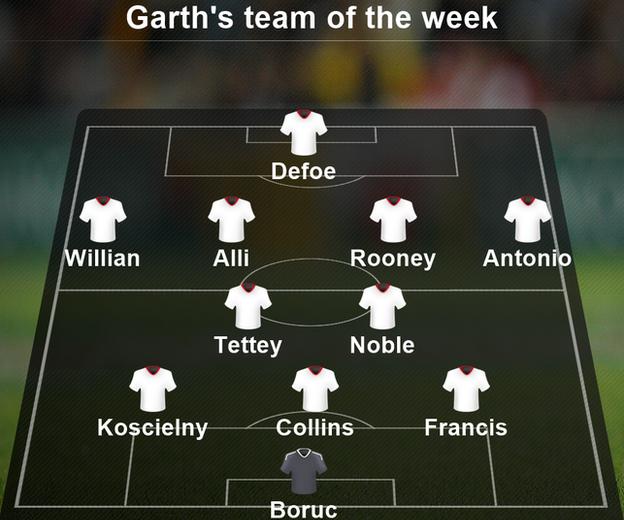 Arsenal extended their lead at the top of the Premier League with an unconvincing win over relegation-threatened Newcastle.
Chelsea beat Crystal Palace for their first win under Guus Hiddink.
But who were the outstanding performers? Here are my selections.
Goalkeeper - Artur Boruc (Bournemouth)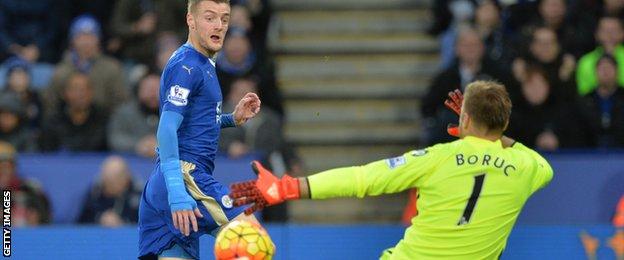 I have seen Artur Boruc make some howlers this season and Bournemouth have often had to pay the price.
However, against Leicester we saw a heroic performance by the Poland international. Saves from Jamie Vardy and Riyad Mahrez were crucial but to get his hands to the controversial penalty and push the ball around the post was superb.
Boruc not only salvaged a valuable and well deserved point for the Cherries, the penalty save provided justice to a situation that happens occasionally when a referee makes the wrong decision. Fortunately Boruc put that right.
Defender - Laurent Koscielny (Arsenal)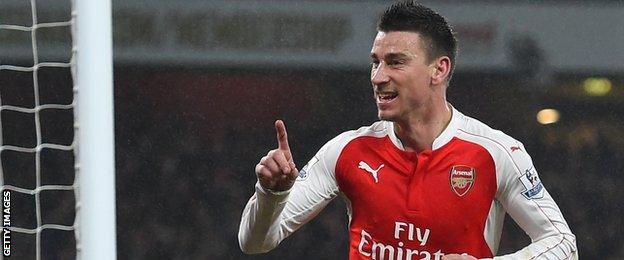 Newcastle deserved something against Arsenal and got nothing. Laurent Koscielny has a habit of scoring goals in difficult circumstances and it saved Arsenal yet again.
If the Gunners can win playing like this then we really should take them seriously for the title.
Defender - James Collins (West Ham)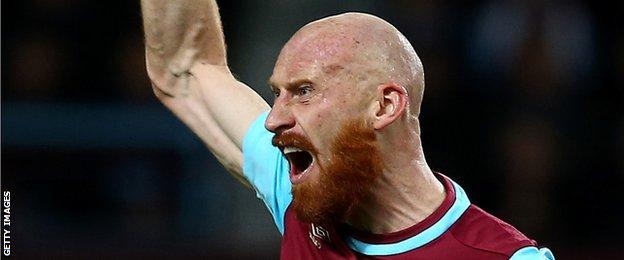 If you are in a battle there are certain defenders you want in your team and James Collins is one of them. He has already made my TOTW this season and seems to be playing better than ever at the moment.
Players like Liverpool's Christian Benteke were made for people like Collins. It's the Roberto Firminos and Philippe Coutinhos that tend to pose a problem for the Welshman, but not on this occasion as West Ham.
Like Gandalf, one of the main protagonists in JRR Tolkien's novels The Hobbit and The Lord of the Rings, Collins maintains the theme 'you shall not pass'.
Defender - Simon Francis (Bournemouth)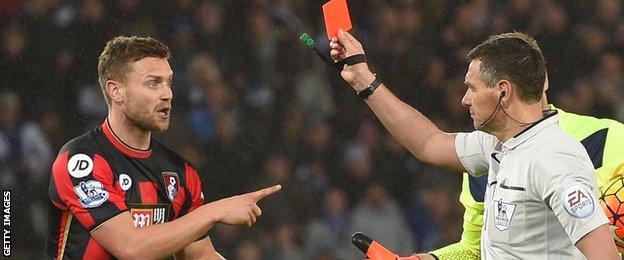 I very seldom, if ever, put a player who has been sent off, in whatever circumstance, in my TOTW. However, in Simon Francis's case I have to make an exception.
In an era where there appears to be a deliberate attempt by some to try and rid the game of the noble art of tackling, Francis made the best slide-tackle I've seen this season. Not only did Andre Marriner award Leicester City a penalty, he then sent Francis off, in order to comply with the draconian and utterly inflexible 'goalscoring opportunity' rule, which denies the referee any discretion whatsoever.
So, if the referee makes the wrong call, which is an occupational hazard, the player and the team suffer a double whammy as a consequence. Great rule!
Midfielder - Alex Tettey (Norwich)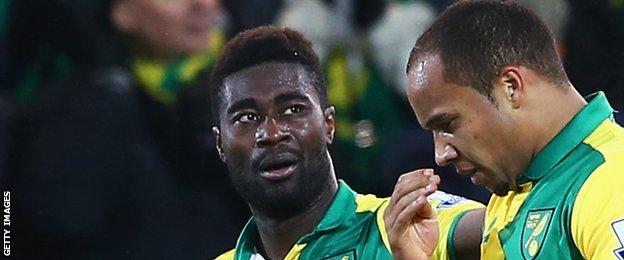 He scored the winner against Manchester United and now Alex Tetey's gone and done it again against a poor, undisciplined Southampton.
I'm not entirely convinced that Ronald Koeman's decision to leave out Sadio Mane (arguably his best player) due to lateness for a meeting was his best option. Surely hitting the player in his pocket, where it hurts most, would have been much more effective than leaving him out of the team altogether.
I can only imagine how elated the Norwich players would have felt when the Southampton teamsheet arrived in their dressing room and they discovered that Mane was on the bench. In fact, I think Tettey's goal expressed exactly how they felt.
Midfielder - Mark Noble (West Ham)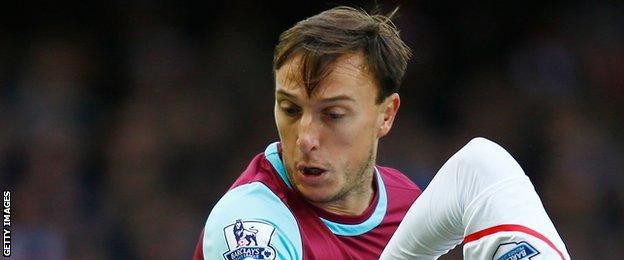 The ball into Andy Carroll for his beautifully headed goal was textbook. In fact, if Liverpool had any sense they would have provided the same type of service for Christian Benteke.
Players might be fitter and the nutrition better than in the past but you need none of that to put a cross in the box for a centre forward to attack. All Mark Noble did was play to his team-mate's strengths and it wreaked havoc.
Noble also knows where the danger is. His clearance off the line was cool, calm and frankly typical of a lad who just gets on with it.
He epitomises everything this East End club stands for. The Hammers have produced some wonderful servants in the past and it looks like they've produced another worthy member of the West Ham academy.
Midfielder - Willian (Chelsea)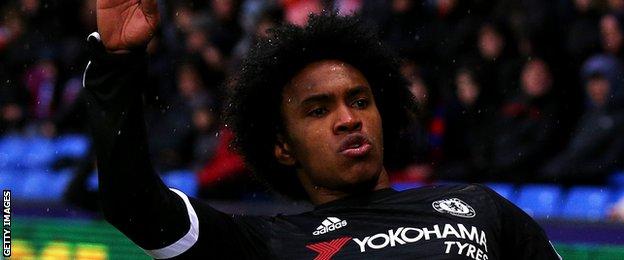 Let's not mince our words here - Chelsea destroyed Crystal Palace at Selhurst Park. I have seen the Blues take teams apart before but not for some considerable time.
But while the debate will rage on about whether Jose Mourinho or the players were responsible for the breakdown in communications in the dressing room, Willian has been the one player who seems to have remained above the nonsense and played to his potential. Once again he was superb against a totally outclassed Palace. The only difference this time was that Cesc Fabregas, Diego Costa and Oscar all seemed to join him.
I said last week that Guus Hiddink was the perfect man to heal the wounds and this result against Palace would suggest that it's working.
Midfielder - Dele Alli (Tottenham)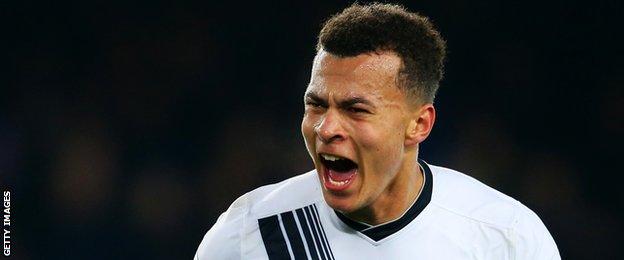 This was an impressive performance by Spurs and a further indication that Dele Alli is developing into a very good player.
I saw this lad against Arsenal and he definitely stood out but against Everton he was the player dictating the play and scored a fabulous equaliser.
I've gone on record and stated that Spurs are not title contenders, but on this performance Mauricio Pochettino is entitled to be furious if they don't make the top four.
Midfielder - Wayne Rooney (Manchester United)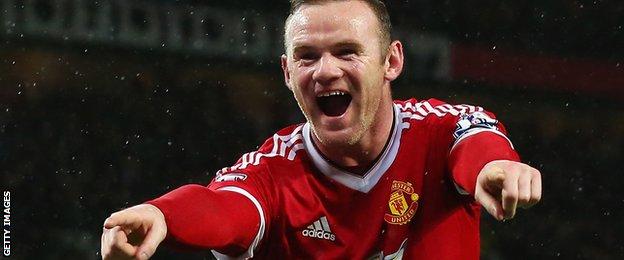 Over the years I have seen Wayne Rooney score some wonderful goals but I don't think I've seen him score one with more dexterity than he did against Swansea.
The pressure the England captain has been under these past few months has been immense. You would have thought that he picked the team and was responsible for United's tactics and not Louis van Gaal. He has willingly played out of position and has tried to cope, as best he could, with a style of play that would send a glass eye to sleep.
You could feel the relief rippling through Old Trafford when he scored his goal. I hope Van Gaal has a better appreciation of his captain and leader now. Rooney has conducted himself brilliantly in very difficult circumstances.
Midfielder - Michail Antonio (West Ham)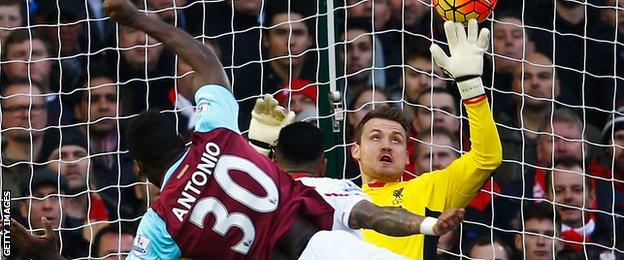 The tackle on Liverpool's Alberto Moreno deep in West Ham's half should have been a free-kick but referee Robert Madley insisted play continue. However, what Michail Antonio went onto achieve thereafter was quite extraordinary.
Having won the ball from Moreno in the first place, Antonio immediately recovered from the tackle and then followed the move he started in his own half in order to extend himself above Liverpool's defence to head home a most sensational goal.
This young man has slowly worked his way through a number of clubs to get to Upton Park. If he keeps playing like this he could be making far more appearances.
Forward - Jermain Defoe (Sunderland)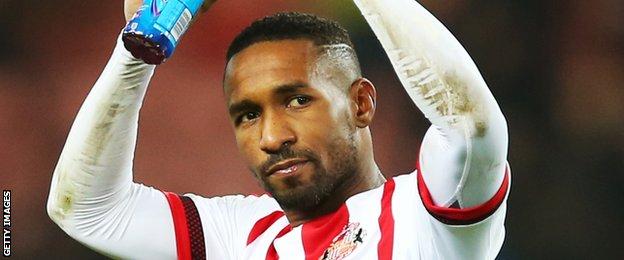 If ever a player guarantees a team goals it's Jermain Defoe. Throughout his career he has produced them wherever he's gone and at the moment he looks like Sunderland's only ticket to survival.
In many ways Aston Villa were the architects of their own downfall, but Defoe's predatory instincts were as sharp as they ever were and they served to expose Villa's kamikaze defending.