Neymar: Barcelona star says he did not hear alleged racist abuse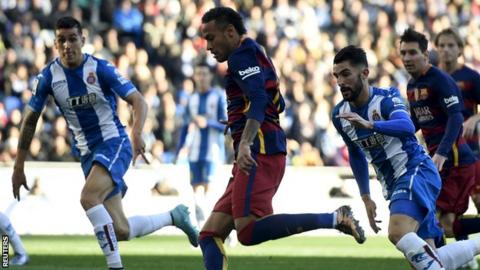 Barcelona forward Neymar said he was not aware of the racist chanting allegedly aimed at him during Saturday's derby at Espanyol.
Barcelona captain Andres Iniesta told Spanish media after the 0-0 draw that the 23-year-old Brazilian was subjected to abuse from a supporter.
Neymar is reported to have told TV station La Sexta: "I did not hear anything.
"It is difficult for things to bother me, I just play football."
Espanyol president Joan Collet said: "I was there, just like 30,000 people and nothing happened.
"The whole thing blows up for one shout, but there was nothing generalised, it's a lie."