Sam Allardyce: Premier League fixture scheduling is 'diabolical'
Last updated on .From the section Football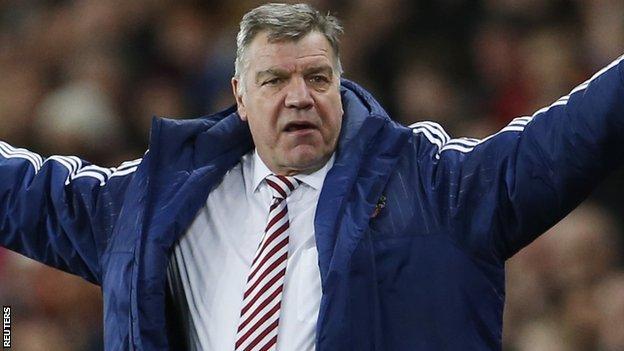 Sunderland boss Sam Allardyce has accused the Premier League of devaluing the FA Cup.
He said it was "diabolical" that top-flight clubs have league fixtures the Tuesday and Wednesday after this weekend's third-round ties.
"Of course I'm going to make changes for our cup tie at Arsenal on Saturday," Allardyce said.
"We're flogging the lads. There are more and more injuries every year, but it's ignored by the Premier League."
Sunderland, second from bottom in the league, are away to Arsenal in the FA Cup on Saturday (15:00 GMT) before they travel to fellow strugglers Swansea on Wednesday, 12 January.
"If the Premier League decides to put a stupid fixture midweek when they don't bloody need to, then I haven't got much choice than to make changes," said Allardyce.
"If you want us to respect the FA Cup, don't put Premier League fixtures in the midweek just after new year.
"Don't give me stick when I change the side at Arsenal. Give the Premier League stick, not the managers."
Sunderland's game with Swansea was due to be played on Tuesday but was moved back a day because the Welsh side have an FA Cup tie at Oxford United on Sunday.
Allardyce was aggrieved by the switch because his side play at Tottenham in a Saturday lunchtime kick-off on 16 January.
"Making me play Wednesday and Saturday rather than Tuesday and Saturday is making it harder for me to get Premier League points," he said.
"With having three away games in succession, we've got around 2,000 miles of travel and the lunchtime kick-off means we've less than three days recovery for Tottenham."