Zinedine Zidane: Don't compare me to Pep Guardiola
Last updated on .From the section European Football
Real Madrid boss Zinedine Zidane says comparisons with Bayern Munich coach Pep Guardiola are wide of the mark.
But Zidane said: "You shouldn't make comparisons with me and Guardiola. He has achieved incredible things."
Guardiola, an ex-Barca player, managed the club's B side before guiding the first team to unprecedented success.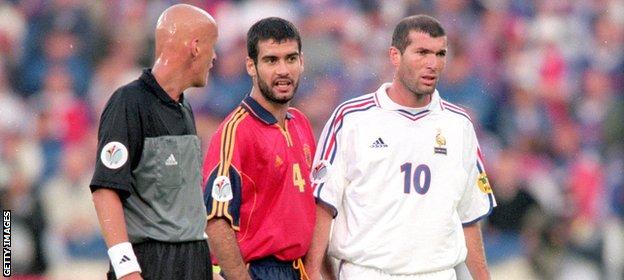 Under Guardiola, Barca won 14 trophies in four years, including the Champions League, La Liga and Copa del Rey in his first season.
Zidane, a World Cup winner with France in 1998, coached Real's B team prior to his promotion following Benitez's sacking.
His first game in charge of the first team will be Saturday's La Liga match against Deportivo La Coruna at the Bernabeu.
'I will do my best'
Guardiola confirmed on Tuesday he wants to manage in the Premier League when he leaves Bayern Munich at the end of this season.
"Guardiola is a fantastic coach and what he is doing is very impressive," added Zidane.
"Guardiola is Guardiola. I will do my best. I will not compare myself with anyone. I never did it as a player and I won't do it now."
'Bale? I will treat him well'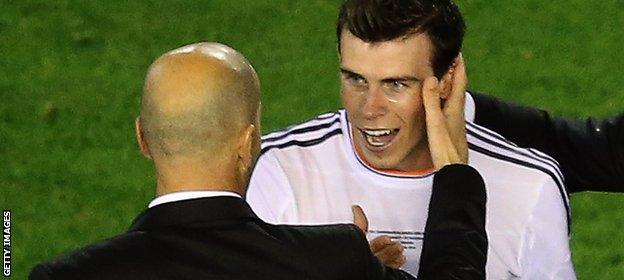 Zidane insisted world record signing and Wales international Gareth Bale will remain a key player for the club.
"He's a phenomenal player," said Zidane. "I'm going to give him all the support and love he needs to play well.
"I understand he might be sad about Rafa's sacking because he was an important coach to him, but I will treat him just as well as Rafael did."
'To win is essential'
Asked about his football philosophy, Zidane said: "I have clear targets and I'm going to do everything I can to reach those targets.
"Good football has always been important at this place and I am going to continue that. It has to be offensive football, balanced, and nothing else.
"To win is essential at this club. The target always is to win the Champions League and I will try to make that possible."
'We're all happy'
Zidane believes he has a squad that is "focused, happy and switched on".
He added: "I've got good feelings, but a coach is never fully prepared, especially a coach who has never managed at this level before.
"I feel kind of prepared. I have motivation and hope. All that will help me."
Thousands turn out for training
As many as 6,000 fans watched Zidane take first-team training at the club's Valdebebas base on Tuesday.
Cristiano Ronaldo, Karim Benzema and the club's other star names were put through their paces following Sunday's 2-2 draw with Valencia.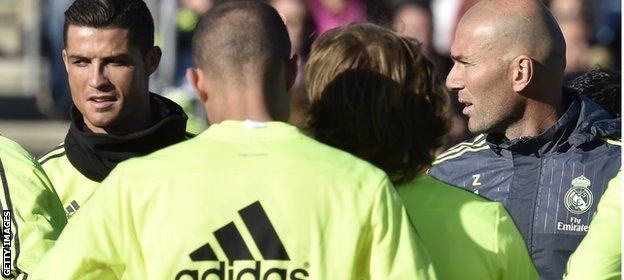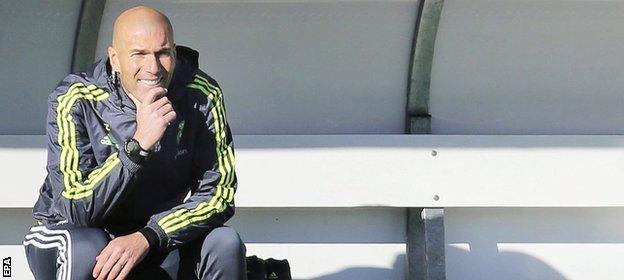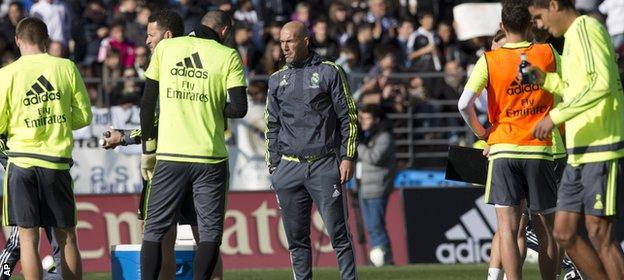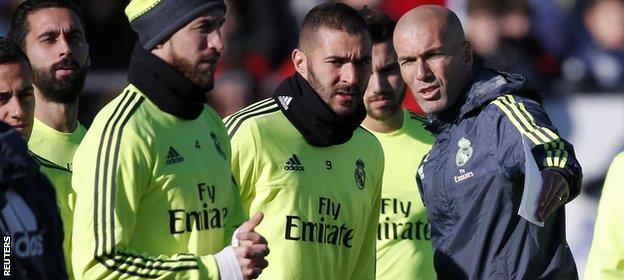 'His managerial experience is zero'
Zidane's appointment has generated a mixed response from past Real players and managers.
Former team-mate David Beckham praised Zidane's "drive" and "passion", insisting he is the "best person for the job".
But former Real boss John Toshack said it was a risk, claiming: "Zidane was a terrific player, but his managerial experience is zero."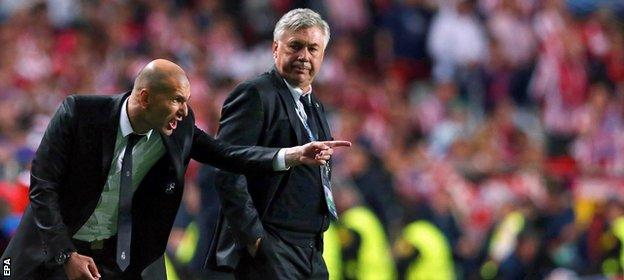 Any advice for Zidane?
Manuel Pellegrini coached Real for the 2009-10 season, when they reached a then club record of 96 points, yet still finished three behind champions Barcelona.
He was the first manager Perez dismissed after becoming Real president in 2009.
"I knew from the beginning I was not to continue for the next year," said the Chilean, now managing Manchester City. "There were some important differences with the president.
"Managing a big team is always very difficult and Real Madrid is a very difficult team.
"But it is more difficult in the way they manage the club than in the position of the manager."