Pep Guardiola: Bayern Munich boss wants to coach in England
Last updated on .From the section European Football
Pep Guardiola says he is leaving Bayern Munich to manage in England.
The former Barcelona boss recently announced he would not extend his contract in Germany when it expires at the end of this season.
Guardiola, 44, has been linked with Premier League clubs Manchester City, Manchester United, Chelsea and Arsenal.
"I want to experience a new city and I want to work in England. I have several offers from England but I haven't signed anything yet," he said.
"I have an opportunity to work in England. I'm at the right age and I feel it is the right move for me.
"That is the reason I have taken this decision."
Bayern chief executive Karl-Heinz Rummenigge had suggested Guardiola already knew which club he would be joining next season.
But on Tuesday, the Spaniard said: "I haven't decided."
Former Real Madrid and Chelsea manager Carlo Ancelotti, 56, is taking over at Bayern, with Guardiola describing the Italian as a "perfect choice".
Why is Guardiola in demand?
Barcelona's most successful manager with 14 trophies in four years, including three La Liga titles and two Champions Leagues.

Took a year's break before joining Bayern in 2013, following the club's Champions League, Bundesliga and German Cup treble under Jupp Heynckes.

Won the league twice in his two full seasons with Bayern, who are eight points clear in his third campaign. He is yet to win the Champions League with the German club and has been knocked out at the semi-final stage twice.

They face Italian giants Juventus in the last 16 of Europe's elite club competition in February and Guardiola said: "Winning the Champions League would make my time here complete."
Analysis
German football expert Raphael Honigstein told BBC Radio 5 live:
"Guardiola was asked about the destination but he politely declined, just saying he was looking for a challenge and more restaurants.
"You feel this is a huge pressure off his chest now. There is no-one playing Guardiola football in England and this is a new challenge to him. He seemed at peace with his decision.
"He said he hasn't committed himself to anyone. We have believed for quite a while, though, that Manchester City are either very close or have already reached an agreement."
What does Pellegrini think?

Manchester City are the overwhelming favourites to secure Guardiola's signature, with some bookmakers offering odds of 1-6 that he will be in charge at Etihad Stadium next season.
City manager Manuel Pellegrini acknowledges he could be replaced at the end of the season - regardless of whether he wins the Premier League title.
"I don't think my position in the future is linked to titles," the 62-year-old said. "For me, as a manager, it's important to win the title because it's my job.
"My way of thinking is that, if I have the option to renew here for five years more and don't win the title, or to win the title and be sacked, I'd prefer to win the title and be sacked.
"I think that if you are the owner of a club, you must have the option to replace the manager if they win the title or if they don't win the title.
"It just is about your trust in the way you work. That is more important than if you win a title or not for the owners."
Where next for Guardiola?
BBC Sport chief football writer Phil McNulty looks at which English club Guardiola could end up managing:
Manchester City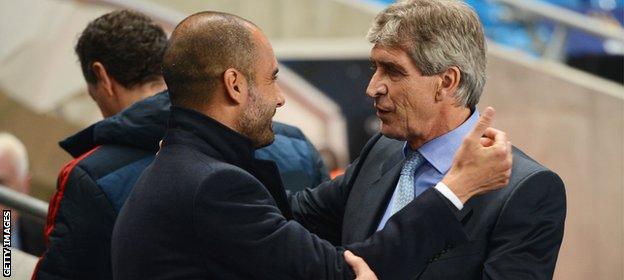 The City job appears to have had Guardiola's name on it for years - with the pieces seemingly put in place for his arrival at the Etihad. All it needs is the nod from Guardiola himself.
Begiristain and Soriano are already in place and ready to welcome the man they worked with to bring such success to Barcelona. Guardiola's arrival would complete the managerial infrastructure you suspect has been the long-held dream to match the fierce ambition of City's Abu Dhabi owners.
Guardiola may yet be diverted off course by offers from elsewhere - perhaps Manchester United or even Chelsea - but all the smart money is on that dream ticket finally being in place at the Etihad at the start of next season.
Manchester United
It is almost inconceivable the most coveted coaching name in world football will not have been discussed as United plan for the future. Guardiola was considered when Sir Alex Ferguson left in 2013 but he never returned their call.
He would be the dream choice at Old Trafford, but there is the lingering belief he is destined to link up again with old Nou Camp cohorts Txiki Begiristain and Ferran Soriano, Manchester City's director of football and chief executive respectively.
United may still hold appeal but would the club make the call knowing they might end up looking like they have been snubbed for their neighbours?
The clamour among supporters for Louis van Gaal to be sacked before the end of his three-year deal and replaced with an immediately available Jose Mourinho has subsided somewhat with Saturday's win over Swansea, giving United more time to weigh up their next move.
Chelsea
Guardiola has long been Roman Abramovich's dream choice to manage Chelsea and it seems the Russian owner would be prepared to pay any price to bring him to Stamford Bridge.
However, the Catalan has remained tantalisingly out of reach, perhaps put off by the revolving door for managers at Chelsea and Abramovich's lack of patience when results go wrong.
Guardiola and Chelsea has never seemed a natural fit, despite the perfect London location, and it would take all of Abramovich's pounds and powers of persuasion to make a difference as he searches for a successor to Mourinho.
It seems the overall package is key to Guardiola, not just finance, so Abramovich may be destined to miss out once more.
Arsenal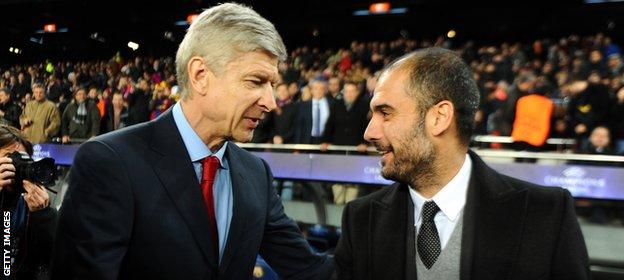 It may seem an unlikely scenario, but an Arsenal Premier League and Champions League double this season could usher in the moment that sees Gunners' boss Arsene Wenger move upstairs, potentially paving the way for Guardiola to take on a London club that is built almost in tribute to his own footballing principles.
And if Arsenal fail to win anything, then maybe it might also be time for Wenger to ponder another role at the club he has served so brilliantly.
In many respects, Arsenal is the perfect fit for Guardiola. It has a 60,000-capacity stadium at a club that is fixed on a sound financial footing. It has the London location that would suit Guardiola and the perfect infrastructure in terms of training facilities and huge transfer funds available to spend.
If the situation arose, might not Guardiola prefer Arsenal ahead of all the other English options? It is the perfect job for any manager with fierce ambition and a desire for success.