Women's Super League needs to be best ever - Steph Houghton
Last updated on .From the section Women's Football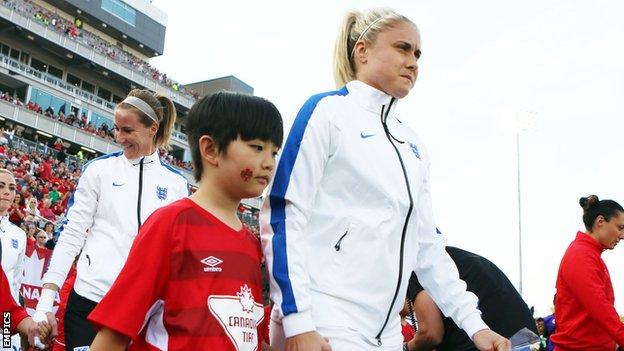 From paying to play to appearing on Fifa 2016 and being made an MBE, England captain Steph Houghton needs no reminder of the "massive" strides she has seen in women's football.
But the Manchester City defender, 27, knows how important it is for the sport to build on that momentum in the new Women's Super League season.
"It is down to the clubs and players to drive the crowds to games," she said.
"We have to make sure the standard of football is the best it has ever been."
WSL 1 crowds reached record levels last season, rising 48% from the previous campaign to an average of 1,076.
England, who finished third at the World Cup in the summer, were watched by 45,619 fans when they faced Germany at Wembley in November 2014.
Houghton and the rest of the Lionesses were then among the 12 international women's teams added to computer game Fifa 16.
The women's teams on Fifa 16
Australia, Brazil, Canada, China, England, France, Germany, Italy, Mexico, Spain, Sweden, and the United States of America
"The sport has moved on a massive amount," Houghton told BBC Sport.
"I think back to when I first started playing as a 14-year-old for Sunderland. You were having to pay to play, wearing men's hand-me-downs and had no kit to train in."
Houghton said "a lot of hard work" had gone into making women's football as professional as it can be.
"Seeing young girls with your name on the back of their shirts is quite a special feeling," she added.
"Making Fifa 16 was pretty crazy. It is cool, but a fantastic step in the right direction. It is something so small but within women's football it is massive for us."
Houghton was one of six Manchester City players in the England squad for a European Championship qualifier against Bosnia in November.
But the former Arsenal player, who was appointed an MBE in the New Year Honours, believes the Super League is more competitive than ever.
She said: "Transfers happen in football and, the more money that is involved, there might be a natural sway towards certain clubs.
"But the way the Super League is trying to be now, with nine teams, you will find the majority of England players are over a spread of clubs, which is fantastic.
"The whole point in the Super League is to make it as competitive as it can be. It certainly is that."
The new WSL season will begin in March.