Rafael Benitez: 'An honour and privilege' to manage Real Madrid
Last updated on .From the section European Football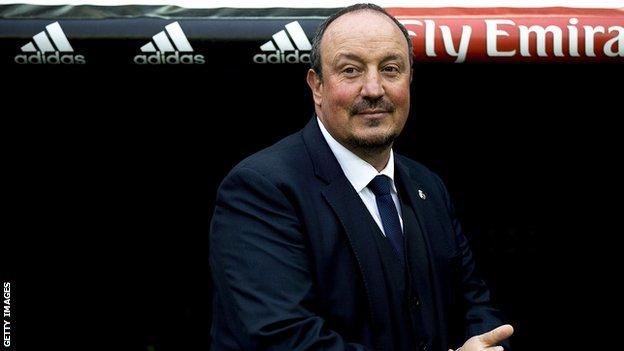 Rafael Benitez has said it was "an honour and privilege" to manage Real Madrid, a day after he was sacked by the La Liga club.
Spaniard Benitez, 55, was relieved of his duties following a meeting of the club's board on Monday and replaced by B team coach Zinedine Zidane.
Benitez lost only three of his 25 games and guided Real into the last 16 of the Champions League.
In a statement, Benitez also extended his support to Zidane and the players.
Benitez, who was born in Madrid and played for Real's B team, said: "I want everyone at the club from the board of directors, executives, workers and all of the fans, to know it has been an honour and privilege to be in charge at this club, where I grew up as a person, player and coach from the lowest categories through to the first team.
"As a Madridista from Madrid, steeped in the traditions and values of this institution, it has been an honour to work for these colours."
He added: "I would especially like to thank everyone who since my first steps through the door have supported me and made my work easier.
"With all that I have said still in mind, I would like to wish good luck to Zinedine Zidane, my successor, and his staff. To all the players, coaches and staff I wish all the best and also good luck."