Prince Ali forecasts 'catastrophe' if he does not win Fifa election
Last updated on .From the section Football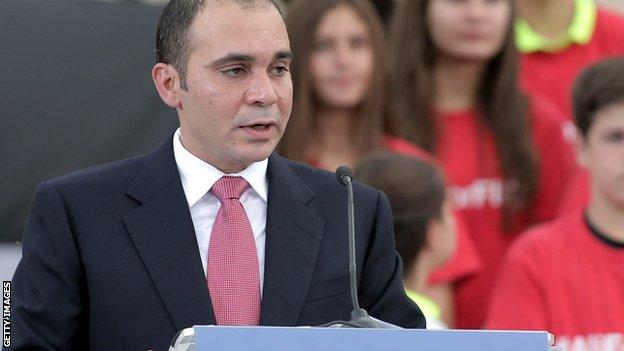 Fifa presidential candidate Prince Ali of Jordan says it will be a "catastrophe" for world football if he does not succeed Sepp Blatter.
Prince Ali, 40, believes he is the only man standing for the post who can restore the governing body's reputation after numerous corruption scandals.
He said the election on 26 February was Fifa's "last chance to get it right".
Jerome Champagne, Gianni Infantino, Sheikh Salman bin Ebrahim al-Khalifa and Tokyo Sexwale are also standing.
Prince Ali ran against Blatter in the last election in May, but withdrew after losing 133-73 in the first round of voting.
Blatter, president since 1998, subsequently announced his intention to stand down and has since been banned for eight years following an investigation by Fifa's ethics committee.
"It would be a catastrophe for the organisation if things do not go the right way," said Prince Ali.
"Having talked to national associations across the world, they do recognise that this is an incredibly important moment in the future of the organisation.
"You have to be a hands-on president, with a proper CEO. You do need to have proper leadership and somebody who takes responsibility, which we have not seen in the past."
Prince Ali is especially keen to secure to support of England's Football Association and the other home nations.
"I think that's critical," he said. "There is a moral aspect to English football and the positions they have taken in the past.
"The important thing is what England stands for right now. I think that, in the past, sometimes there was a feeling what England says - or at least that's what was portrayed by others - is somehow bullying. And that's not the case at all.
"People around the world respect England and English football in particular. They want to know that England cares about the future of Fifa and that's very critical in how they will go in the future."
Among his proposals, Prince Ali wants to bring in tougher rules on World Cup bidding, similar to those used by the International Olympic Committee.
Swiss prosecutors are investigating the award of the 2018 and 2022 World Cups to Russia and Qatar respectively.
He said: "We don't want to make the same mistakes we had in the past.
"I don't think it is correct, for example, for executive committee members to travel to bidding nations."