Dundee United need a big character, says Maurice Malpas
Last updated on .From the section Football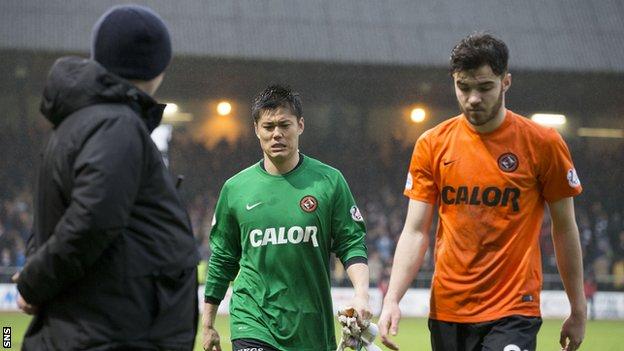 Former Dundee United captain Maurice Malpas says the Tannadice club need to sign a player who can "change the mindset" of the dressing room.
The Tangerines are 11 points adrift at the bottom of the Premiership and have won only two league games all season.
United boss Mixu Paatelainen has already signed some free agents.
"They need somebody that's going to come in and rattle the dressing room, get boys on the up, get boys out playing," Malpas told BBC Scotland.
"It's not about performances, it's about getting three points and it's about picking 11 points up on the team above them and getting themselves a chance of a play-off position.
"They've got themselves at the bottom of a big hole and it's difficult to get out.
"I'd like to meet somebody that doesn't think they'll get relegated. A betting man will say they'll get relegated.
"People like myself who are staunchly Dundee United are really hoping now as opposed to anything else. It's a big, big ask but a marvellous comeback if it does happen. I hope it does happen."
United have taken the lead in five of their last seven games without winning any of them, including Saturday's 2-1 defeat by city rivals Dundee.
"The games I've watched they've done great until they've lost a goal and then they've went to pieces," Malpas said.
"They've not been cut to threads by other teams, it's just individual mistakes. They've proved they can score goals.
"There is quality in the squad but there's no confidence.
"I've been there. I got relegated with Dundee United [in 1994-95], it was the worst season of my career but we never looked as though we'd score a goal. Dundee United have scored goals.
"Can they stop goals at the other end? Everybody says defending's easier than attacking. Concentrate on not losing a goal and see if you can nick a goal."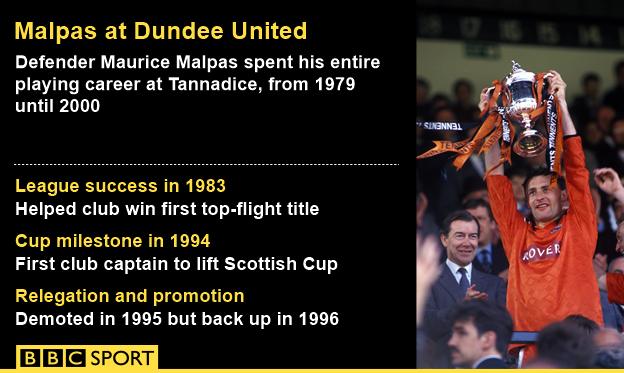 Malpas was assistant manager at Inverness Caledonian Thistle when they found themselves in a relegation battle.
The Highlanders' mid-season signing of Richie Foran improved their fortunes but they were ultimately relegated on goal difference in 2009, returning to the top flight the following year.
"Fantastic in the dressing room," Malpas said of Irish forward Foran.
"He got them to play, he got a spirit about the dressing room. They took that on to the pitch.
"For me, Dundee United need to go and get that type of player. He might not be your best technically. Forget about the technical side.
"Let's get somebody who can rattle the cages in the dressing room, rattle a cage on the pitch.
"They need to bring out the character in all the players. They need to get somebody to change the mindset."