Gareth Bale could win league title for Man Utd, says Harry Redknapp
By Mark Poyser
BBC Wales football reporter
Last updated on .From the section Football
Gareth Bale would turn Manchester United into genuine Premier League title contenders, says former Tottenham manager Harry Redknapp.
Redknapp was 26-year-old Bale's manager at Tottenham between 2008 and 2012.
The Wales striker, who cost Real Madrid a world record £85m when they signed him from Spurs in 2013, has been linked with a move to Old Trafford.
"He's a special player who can make the difference," Redknapp told BBC Radio Wales.
"Wherever he went, whether it's Man Utd, Chelsea or Manchester City, or back to Tottenham he could make that much difference.
"He's a fantastic player. I think Real would want to keep him but you just don't know what clubs are thinking."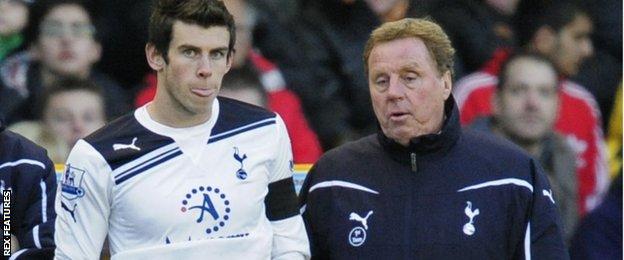 United, who are nine points off Premier league leaders Arsenal and have not won the title since 2013, are reportedly working on a deal in the hope of tempting Bale from Madrid.
The Spanish giants recently sacked manager Rafa Benitez and replaced him with Zinedine Zidane on Monday.
Former Wales and Real Madrid boss John Toshack believes that managerial switch will not adversely affect Bale and Redknapp echoed Toshack's view.
"I wouldn't think that Gareth's situation would depend on Rafa Benitez," said Redknapp. "He plays for Real Madrid at the end of the day, it's one of the world's greatest clubs.
"If he wants to leave I don't see it being suddenly because Rafa Benitez has lost his job.
"If he decides he wants to leave it's because he wants to come back to England.
"If Ronaldo goes, Gareth would become the number one player there in my opinion."