Dundee United: Chairman Thompson in finances warning
Last updated on .From the section Football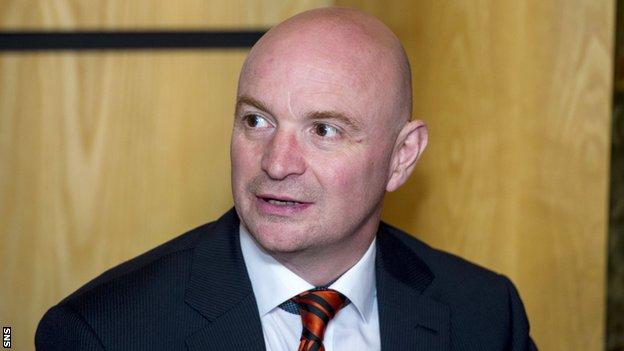 Dundee United chairman Stephen Thompson has warned of the financial consequences of relegation.
Thompson made it clear his family will not plough more money into the Scottish Premiership club in the long term.
However, he says head coach Mixu Paatelainen will have cash to spend in January as the Tangerines try to move off the bottom of the league.
"As of this morning, we are in discussions regarding two or three players," Thompson told BBC Scotland.
"We've got a few options on the go at the moment so yes, we're looking to bring players in."
To avoid relegation, Paatelainen's side must do what no team in the last decade has done.
During that period, the bottom team at this stage in the season has always gone down - and none have had greater deficits to make up than the 11 points the Tangerines must claw back.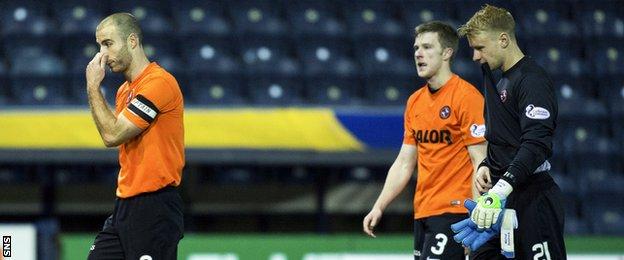 However, Thompson says it will not be for the lack of financial backing.
"We're going to do as much as we can to support Mixu and the team to stay in the league," he said.
"At the end of the day, that's the ultimate thing - to stay in the Premiership this season.
"We won't give up until it's impossible for us to actually stay in the league so we will bring players in and hopefully the right ones.
"We don't like talking about relegation because until we're relegated, we're not relegated.
"There's no doubt for any club that goes down, it's tough. Hibernian went two years ago and they've found it hard. There would be dramatic changes at this club, there's no doubt about that, if we were relegated.
"We've got an infrastructure at this club, it's for a Premiership club. If you're not in the Premiership, you have to cut your cloth accordingly and it'd be tough, there's no doubt it'd be tough.
"Everyone's written us off. We haven't written ourselves off yet. We will not give up until we're actually down."
Paatelainen 'the right person for the job'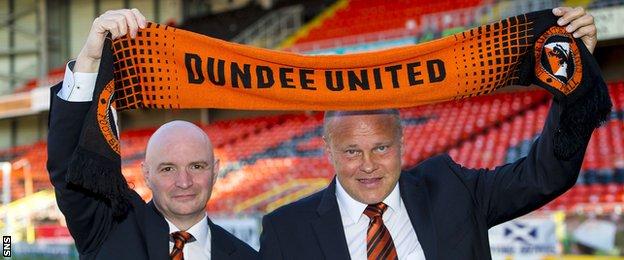 Paatelainen succeeded Jackie McNamara in the autumn when the Tangerines sat bottom on five points after 10 games.
Since then, the Taysiders have picked up one win, two draws and eight defeats.
"We're 100% behind Mixu as our head coach," said Thompson. "He's a very good coach. He's done all the things we've asked him to do so far. The only thing we haven't done is to manage to win games.
"He's got great contacts for bringing international players.
"We strongly believe he's the right person for the job. He inherited the squad that he's got, most of it. We've brought four players in the last few weeks and we're looking to bring in more players in.
"He understands the bigger picture about how to work within budgets. Like any head coach, he'll push for more and I get all that.
"His whole work ethic is right in how he does his business. He just won't sign a player without seeing him first."
Recruitment regrets
Thompson believes the roots of the club's present struggle can be traced back to last summer.
"It's very easy in my eyes where it went wrong," he explained.
"It's not to do with the money we spent, it's not to do with player sales. It's about who we replaced them with, it's about our recruitment. Our recruitment last summer was poor at best and that's why we are where we are.
"Our wage costs are the third biggest in the league. We've spent a lot of money over 18 months on transfer fees - £650,000 - and we are where we are, which is sitting bottom of the league so it probably tells you one thing, that we didn't bring in the right players."
League performance key to finances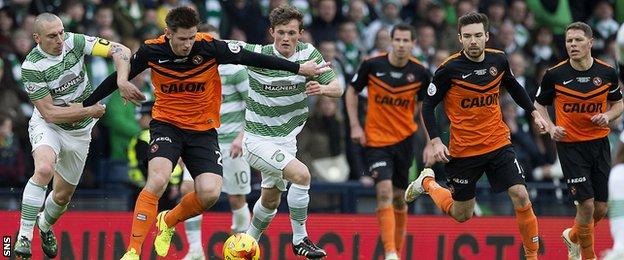 In spite of their current plight, Thompson believes the club have "come a long way in the last few years" since his family took control at Tannadice.
"It's all been forgotten about in the last few months," he explained. "We've been in finals.
"Where we've come from financially, I know it's irrelevant at the moment because of the results on the park.
"We're having a really rough season for everybody, for the board, the fans, the staff, everybody around the club and determined to get us out of where we are.
"There's no plans for me to go anywhere at the moment. There's no white knights out there waiting to take the club on board either. There's never been a proper approach to the club to this date so I intend being around to run the club."
However, the chairman recognises the need for the club to be successful on the park to be profitable off it.
"The family cannot fund the club long term, absolutely no chance," he added. "We can't, it's impossible to do that.
"I look back historically and think we should've stuck the club in administration the day we took over the club because the debts were spiralling out of control back then.
"But that didn't happen so we got to where we are, financially we're in a far better position.
"We had a record profit last year and we're probably going to make one of the biggest losses in any year this year purely because where we are in the league.
"The lack of success has a massive effect on your finances."