Tony Pulis: West Brom boss says he was initially warned off club
Last updated on .From the section Football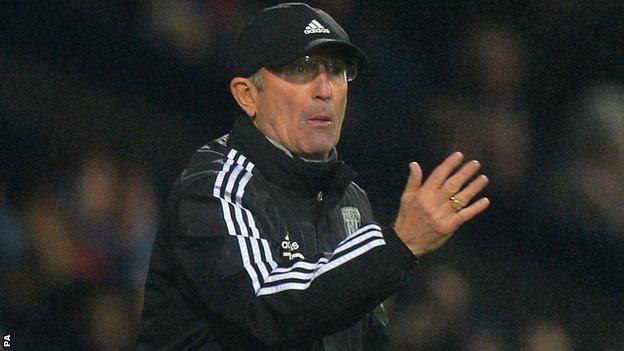 West Bromwich Albion head coach Tony Pulis admits he was not quite certain what to expect when he took over in the hot seat at The Hawthorns a year ago.
And he admits to initial caution with Baggies chairman Jeremy Peace.
"I was warned off by lots of people, more so with the chairman than anything else," Pulis told BBC WM.
"I'm never happy with anything. I just get very disappointed when people don't work at the same pace.
"But he's been very honest and open and straight and, whether I like it or not, I prefer that. Jeremy has run the club over the past 10 years in a very astute manner. You have to give him an enormous amount of credit. It's his club and he runs it exceptionally well.
"I can be a little off the rails at times and speak my mind. Sometimes that frightens people from being as open as they should be. But, once I get it off my chest, it's fine and I can move on.
"What I don't like is when it festers. I think Jeremy is getting used to that and other people at the club are getting used to that.
"I've had bad times at other clubs where people have not accepted it. But my relationship with Peter Coates was an extraordinary relationship that still goes on today."
Pulis on 12 months in charge at The Hawthorns
On the first day of 2015, Tony Pulis was simply the former manager of Bournemouth, Gillingham, Bristol City, Stoke City, Plymouth Argyle and Crystal Palace when he took his place in the stand to watch West Ham United face West Bromwich Albion.
A day later, after a little dressing room tinkering, he officially took the job as Albion boss. No longer a football manager, but as a head coach, the Premiership club's preferred title for the last six of Albion's bosses, since Tony Mowbray left in the summer of 2009.
He began his reign as Baggies boss with the club just one place and one point above the Premier League drop zone.
But, having comfortably kept them up, Pulis' Baggies have had a frustrating first half of the 2015-16 season.
Not helped by the distraction of an August transfer window dominated by Saido Berahino's non-sale, and to a backcloth of complaints from supporters about lack of entertainment, they were just three points clear of the relegation zone on Boxing Day.
Successive home wins over Newcastle and his old club Stoke in the final two games of Pulis' first year in charge have brought half a smile to his face - and they now go into the final 18 games of the season nine points clear of danger. But, ahead of a window likely to again be dominated by Berahino's next destination, the Baggies boss still suggests that there is a lot of work to do yet.
"I really do think it's going to be a tough second half of the season," he added. "The fact we've got 26 points is wonderful but a lot of people are going to spend as the stakes this year are so high. As normal, it's going to be dog eat dog.
"If we get through the season, hopefully fingers crossed, with certain things changed and certain people in place, you'll see the club move on but you have to do it step by step and we'll need a few windows to get where we want.
"When I leave the club, and we all do leave in the end, whether I get carried out in a box, or my time's up, I want people to say he made a difference, not just on the pitch but off it."
Tony Pulis was talking to BBC WM's Rob Gurney.