Women's Super League One: 2016 transfer list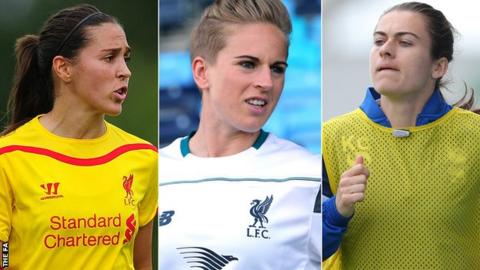 The Women's Super League transfer window re-opened on Friday, 3 June and will close on Thursday, 30 June.
After the pre-season transfer window from 1 January to 18 March and the first half of the league campaign, Manchester City Women lead the WSL 1 table ahead of defending champions Chelsea Ladies and third-placed Birmingham City.
Keep up to date with all of the key confirmed signings before the season resumes on 26 June.
Arsenal
In
Katie McCabe (Shelbourne FC, forward)
Danielle van de Donk (Goteborg FC, midfielder)
Fara Williams (Liverpool, midfielder)
Josephine Henning (Paris St-Germain, defender)
Asisat Oshoala (Liverpool, striker)
Out
Siobhan Chamberlain (Liverpool, goalkeeper)
Chioma Ubogagu (Houston Dash, forward)
Jade Bailey (Chelsea, midfielder)
Carla Humphrey (Doncaster Rovers Belles, midfielder, on loan)
Birmingham City
In
Andrine Hegerberg (Kopparbergs/Gothenburg, midfielder)
Isabelle Linden (FFC Frankfurt, striker)
Marisa Ewers (Bayer Leverkusen, defender)
Corina Schroder, (Liverpool, defender)
Ann-Katrin Berger (PSG, goalkeeper)
Out
Jo Potter (Unattached, midfielder)
Jade Moore (Unattached, midfielder)
Remi Allen (Reading, midfielder)
Christina Torkildsen (Coventry United, midfielder)
Karen Carney (Chelsea, midfielder)
Chelsea Weston (Notts County, defender)
Becky Spencer (Chelsea, goalkeeper)
Chelsea
In
Karen Carney (Birmingham City, winger)
Becky Spencer (Birmingham City, goalkeeper)
Jade Bailey (Arsenal, midfielder)
Beth England (Doncaster Rovers Belles, midfielder)
Out
Marija Banusic (Eskilstuna, forward)
Marie Hourihan (Manchester City, goalkeeper)
Jenna Dear (Everton, midfielder)
Laura Coombs (Liverpool, midfielder, on loan)
Millie Farrow (Bristol City, striker, on loan)
Jodie Brett (Bristol City, midfielder, on loan)
Atlanta Primus (Yeovil Town, midfielder)
Doncaster Rovers Belles
In
Jess Sigsworth (Notts County, striker)
Anna Moorhouse (Durham, goalkeeper)
Becky Easton (Liverpool, defender)
Katrin Omarsdottir (Liverpool, midfielder)
Natasha Dowie (Liverpool, striker)
Carla Humphrey (Arsenal, midfielder, on loan)
Alexandra Gummer (Adelaide United, defender)
Maz Pacheco (Liverpool, defender, on loan)
Out
Beth England (Chelsea, midfielder)
Liverpool
In
Sophie Ingle (Bristol City, midfielder)
Siobhan Chamberlain (Arsenal, goalkeeper)
Laura Coombs (Chelsea, midfielder, on loan)
Caroline Weir (Bristol City, midfielder)
Emma Lundh (Lillestrom SK, striker)
Mandy van den Berg (Lillestrom SK, defender)
Natasha Harding (Manchester City, midfielder)
Alex Greenwood (Notts County, defender)
Shanice Van De Sanden (FC Twente, striker)
Out
Becky Easton (Doncaster Rovers Belles, defender)
Ingrid Ryland (undisclosed club, defender)
Line Smorsgard (undisclosed club, striker)
Katrin Omarsdottir (Doncaster Rovers Belles, midfielder)
Libby Stout (Boston Breakers, goalkeeper)
Natasha Dowie (Doncaster Rovers Belles, striker)
Fara Williams (Arsenal, midfielder)
Lucy Staniforth (Sunderland, midfielder)
Hannah Dale (Bristol, midfielder, on loan)
Corina Schroder, (Birmingham City, defender)
Maz Pacheco (Doncaster Rovers Belles, defender, on loan)
Manchester City
In
Tessel Middag (Ajax, midfielder)
Megan Campbell (Florida State University, defender)
Jane Ross (Vittsjo, striker)
Marie Hourihan (Chelsea, goalkeeper)
Nikita Parris (Everton, striker)
Kosovare Asllani (Paris St-Germain, striker)
Out
Krystle Johnston (Sunderland, midfielder)
Emma Lipman (Sheffield FC, defender)
Kathleen Radtke (MSV Duisburg, defender)
Natasha Flint (Notts County, striker)
Alex Brooks (Everton, goalkeeper, on loan)
Natasha Harding (Liverpool, midfielder)
Georgia Brougham (Everton, defender)
Notts County
In
Jo Potter (Unattached, midfielder)
Jade Moore (Unattached, midfielder)
Lizzie Durack (Havard University, goalkeeper)
Natasha Flint (Preston North End, striker)
Megan Walsh (Everton, goalkeeper)
Maja Krantz (Linkoping, defender)
Angharad James (Bristol City, midfielder)
Aivi Luik (Melbourne, defender)
Chelsea Weston (Birmingham, defender)
Rachel Yankey (Arsenal, midfielder, on loan)
Out
Jess Sigsworth (Doncaster Rovers Belles, striker)
Alex Greenwood (Liverpool, defender)
Desiree Scott (Kansas City, midfielder)
Reading
In
Remi Allen (Birmingham City, midfielder)
Kayleigh Hines (Oxford United, midfielder)
Amber Stobbs (Washington Spirit, striker)
Jade Boho-Sayo (Bristol City, striker)
Mary Earps (Bristol City, goalkeeper)
Out
Ellie Wilson (Bristol City, defender)
Sunderland
In
Lucy Staniforth (Liverpool, midfielder)
Kylla Sjoman (Celtic, defender)
Krystle Johnston (Manchester City, midfielder)
Rachel Pitman (DePaul University in Chicago, defender)
Out
Rebekah Bass (Middlesbrough, midfielder)
Sarah McFadden (Durham, defender)