Scottish Cup: Video assistance plan gets positive response
Last updated on .From the section Football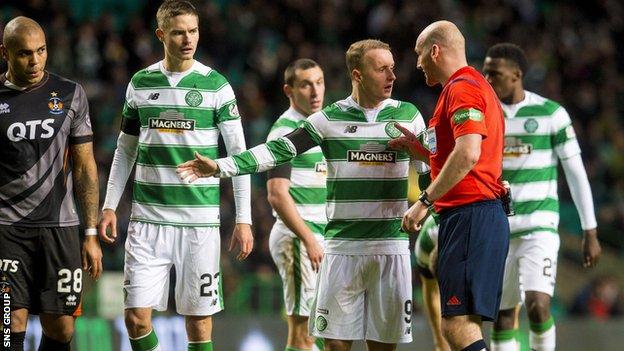 Celtic assistant manager John Collins has welcomed the prospect of possible video assistance for referees.
"For me, it's a no-brainer," added Collins. "Anything that helps the referee is a good thing."
Rangers boss Mark Warburton also backs the idea, saying: "The pressure on match officials grows ever more intense and this will help."
The trials, endorsed by Scottish FA chief executive Stewart Regan, would be limited to decisions on goals, red cards, penalties and cases of mistaken identity.
Warburton and Hearts head coach Robbie Neilson both cited other sports in which video replays are used to aid officials.
"I understand the concerns about losing the rhythm and pace of a game but there is no delay now," added Warburton.
"When we have a penalty call, we speak to the analyst and I know within 10-15 seconds yes or no. I shout out 'was it offside?' and we know straight away.
"Match officials need to make split second decisions and it's very difficult, while we have the luxury of technology. When we speak to them after a game we know we are right nine times out of 10 because we've seen the replay. When we're wrong we don't go in!
"If you look at rugby or at tennis, it's used and there is no real time delay."
Scottish FA chief executive Stewart Regan
"This would be a fifth official - a category one referee who would operate a bank of monitors and provide real-time feedback to the referee.
"The idea is to give the referee clarity and certainty, so that decisions are accurate.
"If the trial is approved in March, those experiments will have to be designed, developed and taken before the IFAB board later this year.
"I wouldn't expect anything to happen until the back end of next season or the season after.
"We don't want to end up in a situation where the game is stopped every few minutes, so it has to be carefully managed.
"Cost is a key factor and video technology will only work where there is broadcast footage available."
Neilson likes the way rugby uses a television match official to rule on matters not seen properly by officials on the pitch.
"I think it is time to move forward," said the Hearts boss. "The technology is there. From the touchline and the stands and the TV cameras and the press can see it within 10 seconds and if it means that we get the right decisions more often than not then I'm 100% behind it.
"In rugby they have a referee in the stand to look at it.
"There is so much involved in games now with so much at stake. It's really important that we get the right decisions and help the referees as much as possible."
Celtic defender Mikael Lustig is not so sure it will work in football though.
The Swede, who has captained Celtic in Scott Brown's absence, thinks technology that establishes whether the ball has crossed the line would be a positive move.
But he feels that interrupting the game for other issues might cause too much disruption.
"If we go that way, in 10 years from now we won't have referees," he said. "The referee is still a big part of the game so I don't like it if there's going to be too much video technology."
Celtic were denied a goal in last season's Scottish Cup semi-final when Inverness CT defender Josh Meekings stopped a Leigh Griffiths header with his arm.
Celtic were leading 1-0 at the time and would lose the tie 3-2 after extra time, prompting Collins to joke that the changes were coming "a year too late".
"In and around the box and goal-line that's where referees need help," added the former Scotland midfielder.
"It's like anything else there will be trial and error but the most important thing is that we are moving forward."
The International Football Association Board, which makes the game's laws, are behind the experiment and will make a final decision in March.