Bolton Wanderers: Mark Davies and Zach Clough set to leave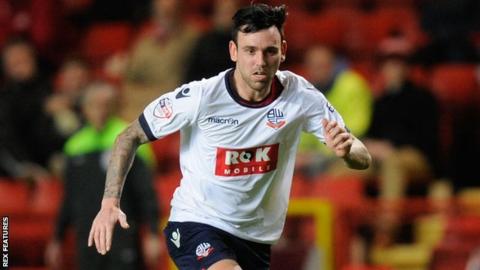 Bolton manager Neil Lennon has said that midfielder Mark Davies and forward Zach Clough are set to leave the financially-troubled Championship club.
Lennon confirmed that Davies, 27, will join Sheffield Wednesday, while Clough, 20, has been linked with Bristol City.
Bolton are £172.9m in debt, received a winding-up petition last month, are under a transfer embargo and have paid their players and staff late.
"There was a bid in yesterday for Zach Clough," Lennon told BBC Radio 5 live.
"Mark Davies looks like he's going to Sheffield Wednesday."
Former Celtic boss Lennon has previously admitted that he anticipates the loss of players, with Wanderers owner Eddie Davies no longer investing money while the club is for sale and advisor Trevor Birch talks to potential buyers.
Lennon's side, four points adrift of safety at the bottom of the Championship, narrowly avoided an FA Cup exit against the lowest-ranked side remaining in the competition, forcing their third-round tie against National League club Eastleigh into a replay thanks to a later Darren Pratley equaliser.