Jurgen Klopp: Liverpool boss warns Guardiola over fixtures
Last updated on .From the section Football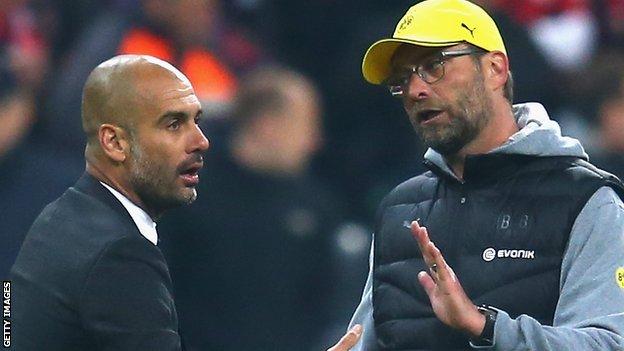 Liverpool manager Jurgen Klopp has warned Pep Guardiola that the greatest challenge he will face in the Premier League is the busy fixture schedule.
The German also advises his Spanish rival that the weather in Britain is "not great" but adds the food is "much better than everybody said".
Guardiola, 44, who will leave Bayern Munich at the end of the season, said he plans to work in England next.
He has been linked with Manchester City, Chelsea and Manchester United.
Klopp said that the number of domestic cup games had surprised him following his move to England in October.
"The number of games is the biggest difference," he said.
"When I came here, I didn't know there were two rounds [legs] in the semi-final of the Capital One Cup.
Klopp, 48, said he had received messages of congratulations from friends after his side beat Stoke 1-0 in last Tuesday's League Cup semi-final first leg.
"I had people in Germany, saying: 'Yeah, you're in the final again!'" recalled the former Borussia Dortmund boss. "Idiots!"
Liverpool's January fixtures
Sat, 2 Jan:
West Ham (a), Premier League, L0-2
Tues, 5 Jan:
Stoke (a) League Cup, W1-0
Fri, 8 Jan:
Exeter (a) FA Cup, D2-2
Wed, 13 Jan:
Arsenal (h) Premier League
Sun, 17 Jan:
Man Utd (h), Premier League
Wed, 20 Jan:
Exeter (h), FA Cup
Sat, 23 Jan:
Norwich (a): Premier League
Tues, 26 Jan:
Stoke (h): League Cup
Sat, 30 Jan:
Possible FA Cup fourth round tie (could also be played Friday or Sunday)
With 12 players out injured, Klopp named an inexperienced team for Friday's 2-2 FA Cup third-round draw at Exeter.
He has indicated he will field a similar side for next week's replay.
"In Germany, when you tell people that if you draw in the FA Cup, you play again, they say: 'What?' Here you have penalties and extra time, but only after the second game," he said.
"That's the thing, it's the number of games... football, football, football."
But he insisted that Guardiola is "so experienced" he will cope.
"I'm sure he will buy a few players and have a good team... 35 players or whatever," said the former Mainz boss.