Wycombe Wanderers: Bloomfield on 'inspirational' Gareth Ainsworth
Last updated on .From the section Wycombe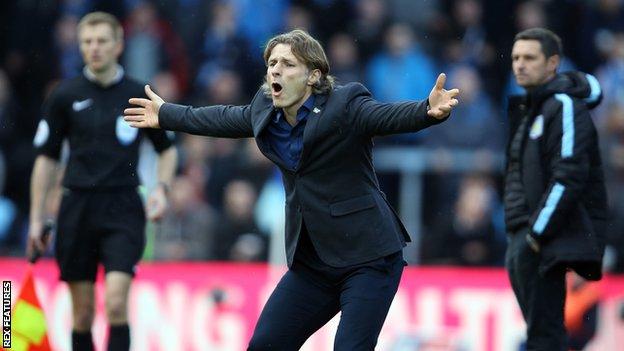 Wycombe midfielder Matt Bloomfield says boss Gareth Ainsworth inspired their FA Cup third-round draw with Aston Villa.
Wycombe trailed 1-0 at half-time, but levelled to take it to a replay.
"He said 'you're 1-0 down but right in this game; 1-0 isn't an easy scoreline for a team that hasn't won a game in as long as them'," Bloomfield said.
"He said 'you're already winners to get the tie financially for the club - we were able to take his inspirational words and put them into action."
Micah Richards had put Remi Garde's Villa on course for their first victory in any competition since September at Adams Park with a first-half effort.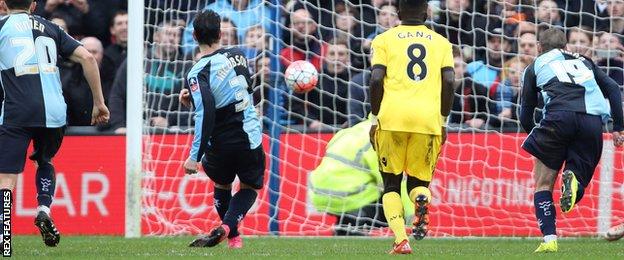 But the League Two hosts equalised after the break through Joe Jacobsen's penalty following a foul on Bloomfield by Ashley Westwood, much to the frustration of the visiting players.
"I've got a black eye so I don't see how it couldn't be a penalty," said Bloomfield.
"He came on my blindside while jumping up to head the ball and he's elbowed me unintentionally in the eye - anywhere else on the pitch it's a foul."
Villa captain Richards confronted some of the Premier League club's angry fans during the game, and Bloomfield applauded his actions.
"It takes guts. He didn't have to go and speak to them, he could have just sat in the dugout and walked off at the end of the game," said Bloomfield.
"But he didn't, he went to speak to them and applaud them to thank them for their support.
"He's trying to be the captain and leader and try to offer some perspective."