East Kilbride & Lothian Thistle HV plan for Celtic cup tie
Last updated on .From the section Football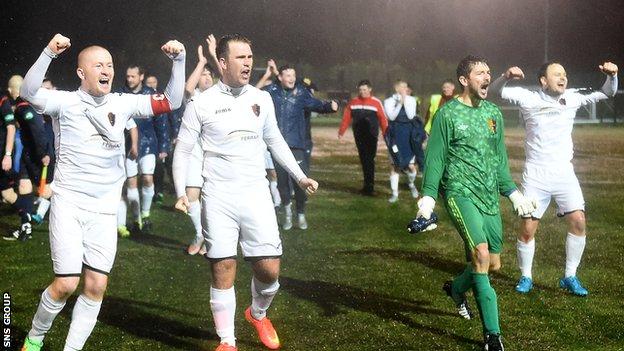 East Kilbride aim to host Celtic at tiny K-Park stadium if they get past fellow non-league side Lothian Thistle Hutchison Vale in the Scottish Cup.
Thistle say they would need to stage the last 16 fixture away from their Saughton Enclosure home.
But East Kilbride are determined to stay at their own ground, which is big enough for around 500 people.
"Should we prevail, the plan is very much to remain at K-Park," said David McKenna, club secretary.
"That's our home and we'd like to think it might get a mention in future years if we take on Celtic."
Following Saturday's postponement, the Lowland League side host the East of Scotland Premier League outfit on 20 January, with the reward a money-spinning crack at the Scottish champions.
"It will mean many thousands of pounds for either ourselves or Lothian Thistle Hutchison Vale and for a relatively new club like ours it would be the bonus of all bonuses," added McKenna on BBC Radio Scotland.
Chairman Mark Horner said East Kilbride would look into temporary seating.
"It is a realistic ambition, very much so," he explained. "I am not sure what the capacity could go up to, that will be down to health and safety and the authorities but near enough 1,000."
Celtic striker Leigh Griffiths
"If we turn up and be professional there will be no problems. They will be both going at it hammer and tongs and it will be interesting to see who we get.
"But these ties are all about getting into the next round."
Lothian Thistle Hutchison Vale chairman Tom Allison described the fifth round draw as "amazing" and said the rescheduled tie would "show what the players are made of".
"We have to keep our feet on the ground and say next Wednesday's game is the most important," he continued.
"There's already talk of making it all ticket because of the interest."
The revenue generated from likely television coverage could make a huge difference to either side, with Allison saying it could be used to upgrade their current home.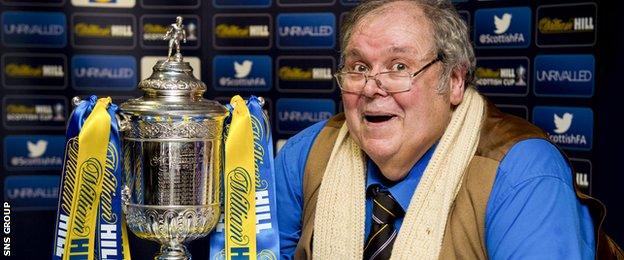 "We couldn't play at Saughton Enclosure, so we'd need to find another venue but I see Hearts are playing Hibs that weekend.
"We got on well with the people at Easter Road and there's always Falkirk or Livingston.
"We'll have a blether with the SFA security chap after next week's game.
"We're tying to upgrade Saughton Enclosure and this would help us with our ambitions for the Lowland League and the SPFL in future."
East Kilbride manager Billy Ogilvie, a Glasgow taxi driver, said he was in "a great pleasure of shock" following news of the draw.
"I'm sure the Lothian manager is on the same cloud I'm on," he laughed.
"It cranks the pressure up on both sets of players because the reward is so high.
"It's such a fantastic opportunity for both clubs and whoever wins will get an education.
"The players will get an education, the management will get an education and the club will be better after playing a team as historic as Celtic.
"It's just win, win, win for the team that's lucky enough to get through."