Cheltenham: Aaron Downes ruled out for the season with torn ACL
Last updated on .From the section Cheltenham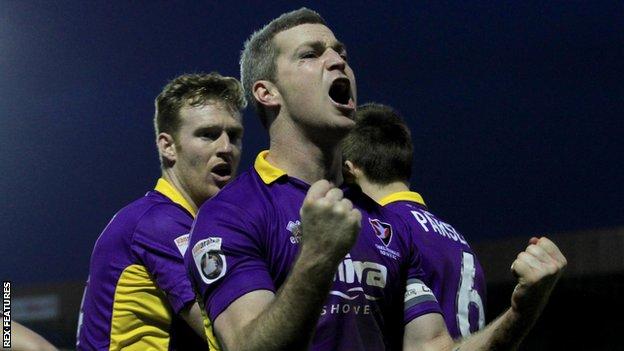 Cheltenham manager Gary Johnson insists captain Aaron Downes still has a big role to play for the team despite being ruled out for the season.
The defender, 30, tore his anterior cruciate ligament against Boreham Wood.
"Downes is still our leader and will be around the club, just not always on the pitch," Johnson told BBC Radio Gloucestershire.
"He will want to get involved in the scouting, coaching and training so we won't lose him lock, stock and barrel."
The Robins currently lead the National League by five points and Johnson expects the rest of the squad to work harder to achieve promotion for their injured captain.
However, the former Yeovil and Bristol City manager is now actively seeking for a defender to replace Downes on the pitch for the rest of the season.
"When you win the league nothing ever comes smoothly and you have got to deal with these things as they come along. This is a mighty big iceberg, but it will not sink our ship," said Johnson.
"We will have to go and get someone else but it is very difficult to find someone of Downes' ilk, experience and leadership.
"We need a type of player that will come in and make a difference for us like Downes does."