Falkirk chair Henderson calls for tough rules for fan misbehaviour
By David Currie
Reporting Scotland presenter
Last updated on .From the section Football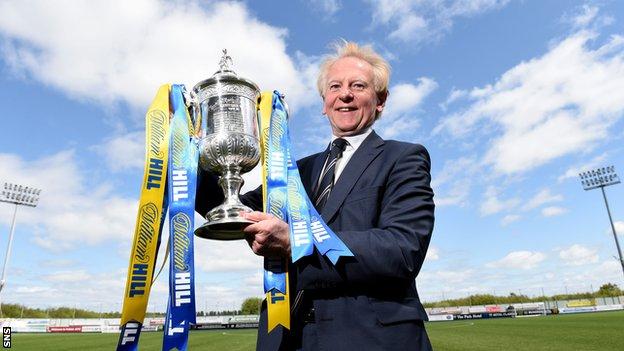 Falkirk chairman Doug Henderson says "tough action" is the best way to deal with fan misbehaviour.
The Scottish FA have hinted clubs could become responsible for fans' behaviour but one Premiership club says strict liability would be a "non-starter".
However, Henderson feels "the highest standards of conduct and governance" have to be upheld.
"Where there is a slippage of that, we've got to look at who's responsible," he explained.
"In principle, I'm in favour of tough action. I'm in favour of people being responsible for their actions, in other words being liable, but one has to be practical.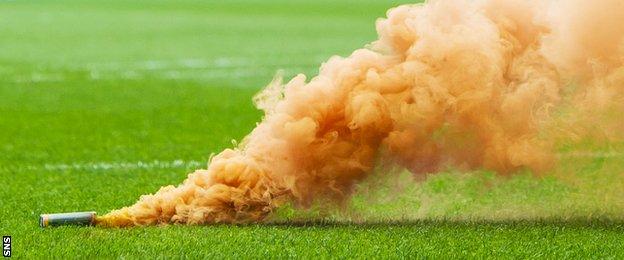 "One has to look at whether it's possible to implement regulation. There's no point in having legislation or regulation which is not possible to implement, that just discredits the whole thing so we need to look at that in some detail."
SFA chief executive Stewart Regan believes the introduction of new rules to combat unacceptable conduct in Scottish football is sure to be on the agenda when the governing body's rules are revised this year.
But one top-flight club's spokesperson told BBC Scotland: "We feel it's a non-starter, the general feeling is there's not an appetite for it.
"There are some issues with it. For example, you could find Stranraer would be punished for the incident at the weekend because it happened at their ground."
Strict liability, where clubs can be punished for the conduct of its fans regardless of whether the club itself is to blame, is used by Uefa for European competitions.
And Henderson said: "In principle I'm in favour of liability.
"On the definition of the word 'strict', we need to look at the actual legal issues involved and until I've done that, I wouldn't take a position on that."