Celtic manager Ronny Deila at ease with Premiership structure
By John Barnes
BBC Scotland
Last updated on .From the section Football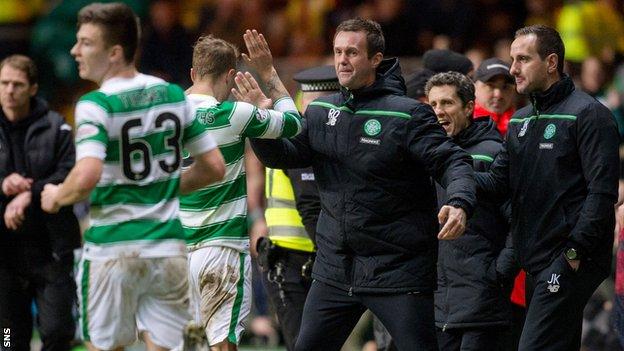 Ronny Deila feels the Premiership's make-up of 12 teams is the right one for Scottish football.
Henderson wants a larger top flight and favours a model of 16 teams playing each other twice a season.
"It's a tough decision, I think the structure here is good," said Norwegian Deila.
"I have only been here one-and-a-half years so it's a little bit early for me to be very hard on something.
"There are positives and negatives about everything. When you have less teams that gives you higher quality or you should get higher quality. You play others often so the level should be higher.
"When you have 16 teams the positives are you go out to different places in the country and also a lot of talent gets a chance."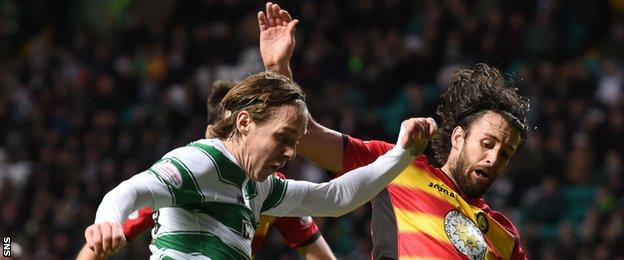 Presently, clubs in the Championship, League One and League Two - all 10-team divisions - play each other four times a season before end of season promotion/relegation play-offs.
In the 12-team Premiership, teams play each other three times then the league splits in two with the top six teams playing each other one more time and the same taking place in the bottom half of the table, with the lowest placed side relegated and the second bottom team entering a relegation play-off with a side from the Championship.
Deila, whose defending champions lead the top flight by three points, disputes whether playing at least four times a season makes the game stale.
"I don't think so, I think it's more important to have a fight all the time, whether it be relegation or winning the league," he explained.
"It'll get more people to the matches and games will be even better.
"The worst that can happen if you have six teams at the bottom who have no chance at that level, and you have maybe two or three teams up who have a high level, then there's going to be too big a difference in the matches and many of the games will never be interesting because they are just in the middle of the group.
"The positives of that are people get time to build up and the youngsters get more chances."
Meanwhile, Deila confirmed captain Scott Brown is back running in training and is scheduled for a mid-February comeback following a knee injury.
And the Celtic boss confirmed there had been enquiries from several clubs to take forward Anthony Stokes on loan, with the Republic of Ireland striker having played only twice this season.