Liverpool have nothing to fear against Man Utd - Danny Murphy

By Danny Murphy
MOTD pundit and former Liverpool midfielder
Last updated on .From the section Liverpool

Liverpool are running out of games to mount a serious bid for a place in the top four, but Sunday's game against Manchester United would be the perfect time to start the run they need.
If Jurgen Klopp's side lose at Anfield, it leaves them with a mountain to climb to earn a Champions League spot.
But if the Reds win it will be fascinating to see what a draw against leaders Arsenal then beating United in the space of four days does for their momentum and confidence.
The way this Premier League season is going - with so many clubs in contention at the top of the table - believing in themselves is going to be a big factor, and beating United will be a big boost for the Liverpool players.
For the fans, Sunday is already special. I grew up as a Liverpool supporter and went to watch games against United long before I played in them, so I always knew what the rivalry means to people and how big this game is.
Most of the Liverpool players involved this weekend won't quite get that, which in a way is not a bad thing - they can play their normal game and not let the occasion get the better of them.
Instead it is just another huge game against a big club, and an opportunity to put one over a rival for the top four and gain an edge in that race, which is wide open.
A fast Liverpool start, but United to attack too?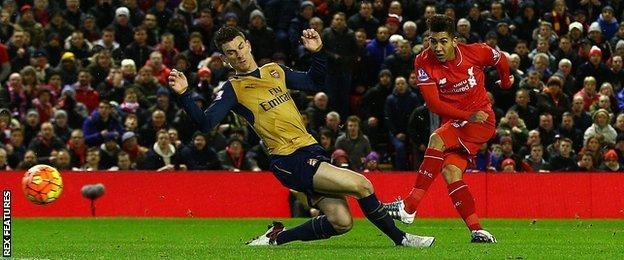 The game is at Anfield so I am expecting a very positive performance from Liverpool and I am anticipating a fast start similar to the one they made against the Gunners.
So it will be very interesting to see how United approach the game tactically. When they stay in shape and keep everybody in position, they are very good at soaking up that sort of pressure.
But I have an inkling they may try to have a go themselves because of the weakness in Liverpool's back four at the moment, and the calls for Louis van Gaal to play more attack-minded football like we saw in United's draw at Newcastle.
Both teams have been inconsistent so it is very difficult to predict the outcome, but if Liverpool play with the same intensity they did against Arsenal on Wednesday they have got a really good chance.
They certainly do not have anything to fear - and there is more pressure on United to get a positive result at the weekend.
Give Klopp time to make his mark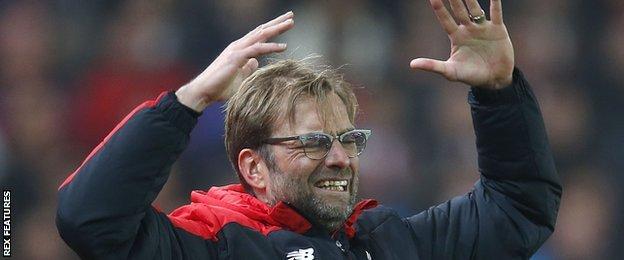 How Liverpool end this week will give a good indication of their chances of the top four, but whether they win or lose against United it is still too soon to judge Klopp's impact on the club.
This time next season we will be in a much better position to do that, when he has brought in some of his own players and then had some proper time, including a pre-season, to work with the team.
Right now it is too early to tell. It is just over three months since he took charge and in that time Liverpool have had some great games and some really poor ones, much like they did under his predecessor Brendan Rodgers in the first part of the season.
There have been some encouraging signs, such as the zest and zip in their play during the first 30 minutes against Arsenal, and their response when things were not going well to drag themselves back into that game and pick up a point.
But the Liverpool we saw against the Gunners - and in their impressive wins over Chelsea and Manchester City - were nowhere to be seen when they went to Watford and West Ham and were well beaten.
Reds cannot overlook injury issues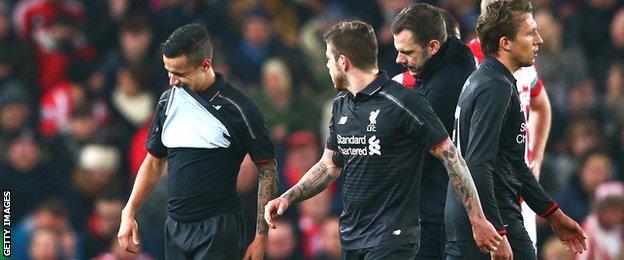 The amount of hamstring injuries Liverpool's players have suffered under Klopp is also a concern, because there are too many to push under the carpet.
They will be linked with what the players are doing in training, usually to do with extra sprint work, but I suspect that part of the problem is down to players trying to impress the new manager - and there is a bit of bad luck involved too.
I am sure Klopp and his staff will be aware of what is happening and trying to find out why, but there is no way he is going to just change everything overnight to try to solve the problem.
If his feeling when he took over was that the squad was not fit enough to play the way he wanted to, then he will have upped the workload.
Whatever he has done, it has worked - their application and effort against Arsenal was impressive and it is with that intensity where he has made the most obvious difference since taking charge.
Liverpool in the Premier League 2015-16 (and rank)

Under Rodgers

Per game

Under Klopp

8

Games

13

1 (14)

Goals

1.31 (8)

10.3 (9)

Shots

11.2 (1)

50% (6)

Shots on target %

40.4% (17)

1.25 (8)

Goals conceded

1.3 (12)

22 (4)

Tackles

23.2 (1)

52.2% (8)

Possession %

59%

107.9km

Average distance

113.7

474.3

Average sprints

552
Statistically they have made more tackles and had more shots than any other top-flight side since he took charge, as well as increasing their average distance covered and sprints per game.
But there is still a long way to go before the team is where Klopp wants them to be, and he is probably looking all over the world at different players who could come in and improve the quality, especially defensively.
Defence will be Klopp's priority
Liverpool have a few injuries at the back, notably to Dejan Lovren and Martin Skrtel, but even when that duo are fit the middle of their defence looks vulnerable.
There is also a huge question mark over goalkeeper Simon Mignolet too, who keeps making errors that lead to goals.
I see a massive difference when I watch Arsenal or Tottenham with Petr Cech and Hugo Lloris in goal - you see the confidence they spread through their team.
Klopp has already signed centre-back Steven Caulker on loan and brought goalkeeper Danny Ward back to the club from Aberdeen.
And that is where I think he will be looking to add players this month, not in positions up the field where he already has plenty of options.
Liverpool have not been prolific since he took charge and they miss plenty of chances, but some of the other players who are unavailable through injury - like Daniel Sturridge and Danny Ings - will add that missing firepower when they are fit.
Danny Murphy was speaking to BBC Sport's Chris Bevan.