Cardoso asked to take charge of Cape Verde as Aguas quits
Last updated on .From the section Football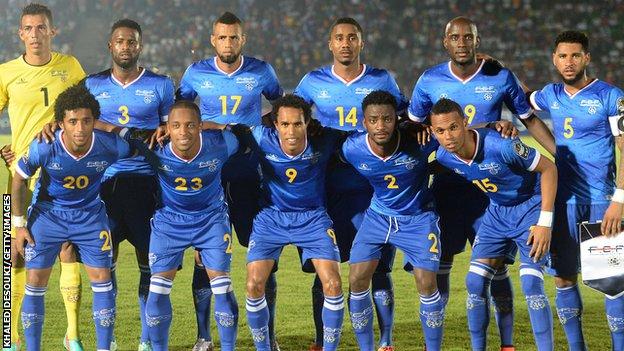 Felisberto Cardoso has been asked to take over Cape Verde's national team after the country's football federation confirmed the departure of Rui Aguas.
Cardoso had served as an assistant to Aguas, who had taken the small island archipelago to the last Africa Cup of Nations finals in Equatorial Guinea, as well as a place in the group phase of the 2018 World Cup qualifiers.
Cape Verde Football Federation president Victor Osorio says it will ensure there is "continuity" and "stability" in the team.
Aguas, the former Portuguese international, departed after a salary dispute between the Cape Verdeans and the former colonial power Portugal, who the islanders said had promised to pay the coach's salary.
Aguas is owed some six months of back pay and eventually gave up on continuing, despite his close ties to the players.

"The accord we had with Portugal was verbal," said Osorio.
"We did not have any contracts in writing with the Portuguese federation just as we did not have anything between the federation and Rui Aguas. But they had made a deal to pay for the coaches," Osorio added.
Aguas said in a statement last week he was leaving after "systematic difficulties over a long period".
"I decided that this is the time to go in a new direction in my career, even though it is hard for me to take this step, because it was a job I was privileged to occupy," said Aguas.
Aguas and his players had taken the Cape Verdeans to 39th in the Fifa rankings after eliminating Kenya to advance on the road to Russia 2018.
The Cape Verde coach and his players had all been in tears in Equatorial Guinea in January 2015 when the team was eliminated after the Nations Cup first round despite not losing a match.
Aguas also thanked the Cape Verdean fans "for sympathy and incredible support".
"I think back to moments of such joy and intensity," he said.
Cardoso, better known as Beto, won the title in Cape Verde with Sporting Praia and also served as an assistant to Lucio Antunes, who was the coach when Cape Verde made their maiden Nations Cup finals appearance in South Africa in 2013.
Cape Verde next play Morocco, home and away, in March in Group F of the 2017 Nations Cup qualifiers.