Max Gradel: Bournemouth striker targets return this season
By Oluwashina Okeleji
BBC Sport
Last updated on .From the section Football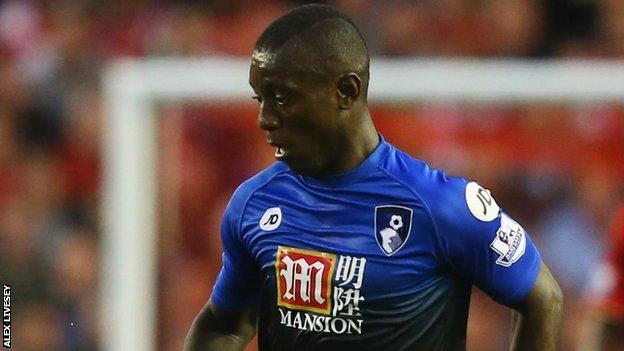 Bournemouth's Ivorian striker Max Gradel hopes to return from injury before the end of the season.
The 28-year-old has been out since suffering cruciate ligament damage in a 1-1 draw with Leicester on 29 August.
"Football is my life and I am eager to return to playing but I know it is a dangerous idea to rush back too soon," Gradel told BBC Sport.
"Hopefully I can make a contribution before the end of the season to keep us in the top league."
Gradel joined Bournemouth from Saint Etienne in the summer of 2015 but was injured in only his fourth game for the Cherries.
Some reports suggested black magic was the cause of Gradel's knee injuries - as a consequence of him allegedly turning his back on his family in his native Ivory Coast.
"I saw the story and it is absolute rubbish. I don't think it makes sense to pay attention to stuff like that," Gradel said.
How England has shaped Gradel's career
Abidjan-born Gradel moved to England in 2004 and after being spotted playing for Lewisham College Football Academy he signed a professional contract with Leicester. Loan spells to Bournemouth and Leeds followed before he joined St Etienne in 2011. In the summer of 2015 he returned To Bournemouth in a £7m switch.
"Some people just like to talk nonsense and that is what it is. It's not even funny that they come up with assumptions like that.
"So is it the same witchcraft that is responsible for the other two players with same injury at Bournemouth?
"Everything is fine between me and my family. Sadly, you can't control what people want to say or write, you can only blank it out and stay mentally tough."
It is that mental resilience that Gradel is drawing on to stay positive during his time on the sidelines.
"I am motivated to ensure my recovery goes well. It is like a young child trying to crawl, walk and run at the same time; it will only end in a big fall. So I am taking my time to recuperate by following the procedures.
"In 2015 I won the Africa Cup of Nations with my country and in the same year I joined Bournemouth. This is football, one minute you are flying and everything is going well then the next minute you are facing an agonising injury.
"I guess I was just unlucky but in this sport you cannot rule out injuries. Life is unpredictable and you must accept it."
Bournemouth sit only three points above the relegation zone after 21 matches and Gradel is hopeful he will return to fitness in time time to help them avoid an instant return to the Championship.
"It's been a childhood dream to play in the Premier League and I want to return to help my team and continue to live that dream," he said.
"When you play in the Championship you only follow the Premier League on TV or when you are lucky enough to come up against some teams in the cup games.
"I want to prove myself in the Premier League and I have a chance to do so with Bournemouth."