Real Madrid clarify David Bettoni role to Zinedine Zidane
Last updated on .From the section European Football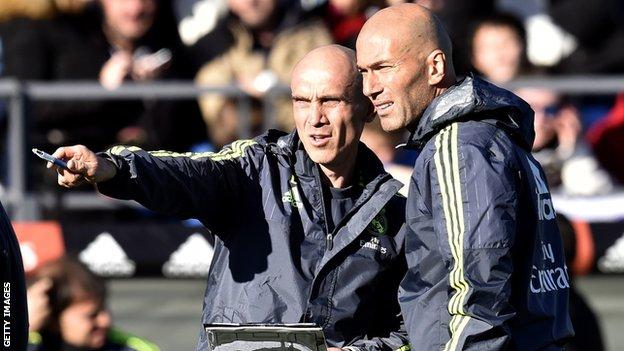 Real Madrid have clarified that David Bettoni's job is to "assist the head coach" rather than be assistant coach after newspaper reports doubted the 44-year-old's qualifications.
Zinedine Zidane brought his Real Madrid B assistant Bettoni - a childhood friend - with him when he was appointed head coach of the senior team.
But Catalan newspaper Mundo pointed out that Bettoni does not have the Uefa Pro Licence for the job.
Real say they have no assistant coach.
Their statement read: "As Zinedine Zidane said in the press conference when he was presented as first team coach on 5 January, he doesn't have an assistant coach.
"David Bettoni is part of the technical team that serves the first team and assists the head coach."
But Mundo have since pointed out that Bettoni was giving instructions to players during the 5-0 win over Deportivo La Coruna - something only people with a licence to be first or second coach can do.