Arsenal overcame Stoke battle - Arsene Wenger
Last updated on .From the section Football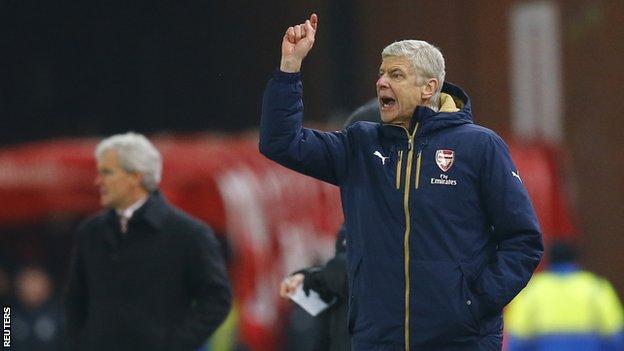 Arsenal boss Arsene Wenger praised his side for overcoming a "battle" at Stoke to earn the point that took them back to the top of the Premier League.
The Gunners have struggled at the Britannia Stadium in recent years, with their last win coming six years ago.
On Sunday, goalkeepers Jack Butland and Petr Cech stood out in the 0-0 draw.
"It was an old-fashioned Stoke battle. They made the game very physical, the crowd were up for it, the players were up for it," said Wenger
"They went for a very direct game and we had to show physical response, solidarity, fighting spirit, togetherness - which is what we did."
Under previous boss Tony Pulis, Stoke drew criticism for their style of football from Wenger, who accused them of playing like a rugby team.
However Hughes, who replaced Pulis in 2013, disputed the suggestion that his team was physical.
He said: "I don't think there was a yellow card, was there?
"I don't know why the physical aspect of the game needs to be mentioned.
"I thought it was a good football game, with both teams trying to win a key Premier League game. That's certainly what we were doing."